info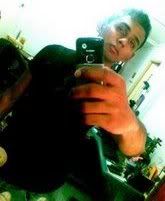 a twenty year-old soldier, deeping an escape fantasy into the wilderness of lifestyle, fashion, music, politics and the suffocation of everyday living. allow me to take my emotions and paint the world white.



facebook - friendster - myspace




LINKS
aaron.
erns.
jun.
rach.
zen.
zi chee
broth.
going om.


Andrea Crews
BryanBoy
Borderline
C.O.A.C.D
F.A.D
La Femme
Luis Avia Roma
Pink! is the New Blog
The Face Hunter
The Sartorialist
Ultra8201
Wardrobe Remix
WISHLIST
MACbook
new wallet
new phone
oni tigs



TRACK

Rihanna - Disturbia



TRAVEL
Bali
Cambodia
Koh Phi Phi


EATARY
BROTH just sliding off those sleezy bar by the junction. located above Duxton Hill, comes a very relax and romantic get away-like semi-fine dining heaven. Where modern Australian is a choice and service is at it's excellence.

Lunch : Mondays to Fridays Dinner: Mondays to Saturdays
30 July 2004 @ 5:10 pm
Forever signs of relief
Such a day of absolut calmness. Never really went hectic. It's of such beautiful presence and enjoying myself with certain laughter and joy. I guess my trying to get back together into this certain chapter is going smoothly. English lesson turned out well. Such great personal experience shared by Mrs Manmohan, gives me various mind-views of both myself and corey. I finally realise that time is the most important subject of all time. It's of great treasurence and patience is needed no matter how bad the situation gets. Supposing I'd then just let things cool off and carry on with life. Someday sooner after the situation settles in calmness, then maybe things would be realise and considered. Had a great long walk with Rachael after slacking with Huilin and Suman. Had really open mindsets of the various situation. Thanking Rachael for atleast believeing in corey and getting things back together could be uphold. Slacking sensation seems to be very crazy. With people like Rachael and Huilin, well things can get worst criticising both parties. It was great fun by the way.
Would also like to thank: Rachael, Ernie, Huilin, Zi Chee, Saleh, Samantha, Rebecca, Wenli, Vignesh and some other guys for carrying for me. Thank you for showing your comforting presence. It astonishes me with pride being with all of you.
REPLIES FOR COMMENT POSTED YESTERDAY,
Rachael: I really feel what you're feeling now. Thank you for lending me this time to comfort me.
Ernie: Love you always and for all those time we had been. Do take care of yourself and for the more you want the old me back, then i'd love a return.
Peng Lek: Thank you forever much for this oppertunity on having the eager to post the comment. Look forward to a lasting scenerio with you. And thank you for that small initiative, it meant alot to me.