info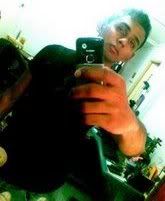 a twenty year-old soldier, deeping an escape fantasy into the wilderness of lifestyle, fashion, music, politics and the suffocation of everyday living. allow me to take my emotions and paint the world white.



facebook - friendster - myspace




LINKS
aaron.
erns.
jun.
rach.
zen.
zi chee
broth.
going om.


Andrea Crews
BryanBoy
Borderline
C.O.A.C.D
F.A.D
La Femme
Luis Avia Roma
Pink! is the New Blog
The Face Hunter
The Sartorialist
Ultra8201
Wardrobe Remix
WISHLIST
MACbook
new wallet
new phone
oni tigs



TRACK

Rihanna - Disturbia



TRAVEL
Bali
Cambodia
Koh Phi Phi


EATARY
BROTH just sliding off those sleezy bar by the junction. located above Duxton Hill, comes a very relax and romantic get away-like semi-fine dining heaven. Where modern Australian is a choice and service is at it's excellence.

Lunch : Mondays to Fridays Dinner: Mondays to Saturdays
2 August 2004 @ 8:44 pm
bleedingthrough
Wash upon a thousand drops of rain from up above so high. Unable to clear my vision and crossing streets blindly. Was waiting for the 3rd bus when I saw corey in it. For the first time, I didn't dare bored the bus regardless of whom my enemy is on it. I just flash a standstill and waited for another. Crossing down the alley into a stop as I gaze upon a sight of my cousin, vignesh. Walking together and sharing mindset of each other's problems. It's been a long while since we shared open topics. The route to school got diverted once Ernie got me a call in pleading me to wait for her, she was late. The chat between me and vignesh blossomed and I sincerely know how she finally feels. The day was fine and the spirits were quite low. Corey was sick and he had to go home. Message him twice to take care and to visit the doctor. Hope he does so, his got a match tomorrow. And hope his feeling better.
After school was FANTASTIC. After such a long distance, I finally meet Ai Zhen, Cindy and Shermane. Really really miss them. We just ran and hugged each other and created commotion. Didn't expect to have fight outside school. As usual, even not Ai zhen's problem aslo now it looks like it is actually hers. The hilarious part was that Shermane was in heels and quarreling. Atleast the Qoo family got back for some while. Really miss them ALOT.
Rachael, Ernie and myself had a great long walk from school to kovan just to get ourselves CHICKEN. I had a great deal when I purchased food worth of $3.70 and only paid $2.40. I was so hungry, I actually ate the sausage that was packed.
[P.S: I THINK I'M HAVING A CRUSH ON GEETHA]