info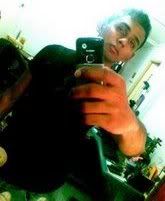 a twenty year-old soldier, deeping an escape fantasy into the wilderness of lifestyle, fashion, music, politics and the suffocation of everyday living. allow me to take my emotions and paint the world white.



facebook - friendster - myspace




LINKS
aaron.
erns.
jun.
rach.
zen.
zi chee
broth.
going om.


Andrea Crews
BryanBoy
Borderline
C.O.A.C.D
F.A.D
La Femme
Luis Avia Roma
Pink! is the New Blog
The Face Hunter
The Sartorialist
Ultra8201
Wardrobe Remix
WISHLIST
MACbook
new wallet
new phone
oni tigs



TRACK

Rihanna - Disturbia



TRAVEL
Bali
Cambodia
Koh Phi Phi


EATARY
BROTH just sliding off those sleezy bar by the junction. located above Duxton Hill, comes a very relax and romantic get away-like semi-fine dining heaven. Where modern Australian is a choice and service is at it's excellence.

Lunch : Mondays to Fridays Dinner: Mondays to Saturdays
26 August 2004 @ 9:19 pm
The Chief History of Armaggedon
SORRY GUYS FOR NOT UPDATING MY BLOG FOR A LONG WHILE.
I've been quite held up seemingly due to my continuous band jamming and almost often visiting town or cityhall helping a friend to get his guita and stuff. It's been a very tired and stressful week for me and it has all come to a standstill and of course few glorious moments. All those effort injected to our band's perofrmance have come to a shit stop when we didn't get approval via audition as the band seems heavy. Personally I don't think it is heavy, they should try listening to the real me and they'll be able to understand how and what is heavy. Not to mention the major overweight pressure just pounding on me for my birthday gathering. From the buying of things to the neat arrangement of timing seems to be so confusing and stressful due to the very limited time and the mere clash of the jamming timing. But I hope things turn up great on that day, which would be tomorrow. Been also lazing in class alot regardless of the important exam flushing through my mind every second I get more lectures from teachers. Did quite well for my Social Studies and I'm quite proud of it. My target for this year would be 8 points and I'm striving my best to get into this category of 5N and not to ITE.
Been catching up gradually with my best pal and slowly blooming by cracking few jokes and of course the co-ordination needed to plundge a great performance in the band as both of us are the vocalist. He seems to be doing fine anyway, Jonathan is screwed but I suppose its just not his influence. But well, all our effort paid of from the on-going passerby from the canteen and the hall and I would personally like to thank all the supporters who were there to provide us that amount of support.
THANK YOU!!!!!