info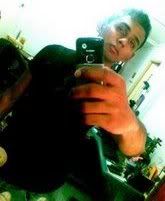 a twenty year-old soldier, deeping an escape fantasy into the wilderness of lifestyle, fashion, music, politics and the suffocation of everyday living. allow me to take my emotions and paint the world white.



facebook - friendster - myspace




LINKS
aaron.
erns.
jun.
rach.
zen.
zi chee
broth.
going om.


Andrea Crews
BryanBoy
Borderline
C.O.A.C.D
F.A.D
La Femme
Luis Avia Roma
Pink! is the New Blog
The Face Hunter
The Sartorialist
Ultra8201
Wardrobe Remix
WISHLIST
MACbook
new wallet
new phone
oni tigs



TRACK

Rihanna - Disturbia



TRAVEL
Bali
Cambodia
Koh Phi Phi


EATARY
BROTH just sliding off those sleezy bar by the junction. located above Duxton Hill, comes a very relax and romantic get away-like semi-fine dining heaven. Where modern Australian is a choice and service is at it's excellence.

Lunch : Mondays to Fridays Dinner: Mondays to Saturdays
4 September 2004 @ 4:37 pm
The past is long yet remembered.
Sorry for not updating my blog for quite a long while. It's been rather a hectic week for me yet in some ways delightful. After my birthday celebration was monday. I, Rachael and Ernie headed for town to meet Ai Zhen as she might be going behind bars. It was such a sad thing to hear about thats why we made the point of meeting her. In the end, we ended up not meeting her as she was too shacked to wake up. On tuesday, it was teacher's day celebration. It was dead boring. The dance perfomance were as if the kids were made to dance. There were'nt any originallity. I suppose Miss chee point of you in delightful is this. Our band should be rocking the main stage, yet we aclaim such critics that we're too heavy? I consider a begging step down in all the performance, it's just not entertaining when it's suppose to be an entertainment. Wednesday was some small break towards this teacher's day. Went to catch Alien vs. Predator and it was such an excellent movie. Such great effects and sound and the fight was dead cool. It's like the first and very most alienation movie I've actually enjoyed meaningfully. On thursday was such a great time. We spent out after school at the beancurd stall in Serangoon Central. Seem to be jammed packed with rubbish. And we end the day with some soccer and of course, me sleeping in the street soccer court. Not an everyday scenerio ain't it? Friday was as usual, an early release. We slacked for an hour at the dessert shop and later moved our way to KFC in kallang. It was dead fun there craking up possible lame jokes and brainstorming on ideas to uphold our chalet. Everyone was just admiring about the girls ad thats about it. My love affair seems to be melting too with betrayal.
To what most about today was just a simple movie of Open Water. Seems well, quite a simple movie but the part went you're in the middle of no where and sharks just keep surrounding you is scary indeed.
The far most about me and corey goes, it's gradually improving. It's just the slow pace that would work us between. And it's doing excellent progress.