info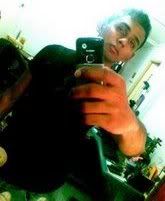 a twenty year-old soldier, deeping an escape fantasy into the wilderness of lifestyle, fashion, music, politics and the suffocation of everyday living. allow me to take my emotions and paint the world white.



facebook - friendster - myspace




LINKS
aaron.
erns.
jun.
rach.
zen.
zi chee
broth.
going om.


Andrea Crews
BryanBoy
Borderline
C.O.A.C.D
F.A.D
La Femme
Luis Avia Roma
Pink! is the New Blog
The Face Hunter
The Sartorialist
Ultra8201
Wardrobe Remix
WISHLIST
MACbook
new wallet
new phone
oni tigs



TRACK

Rihanna - Disturbia



TRAVEL
Bali
Cambodia
Koh Phi Phi


EATARY
BROTH just sliding off those sleezy bar by the junction. located above Duxton Hill, comes a very relax and romantic get away-like semi-fine dining heaven. Where modern Australian is a choice and service is at it's excellence.

Lunch : Mondays to Fridays Dinner: Mondays to Saturdays
7 November 2004 @ 9:29 pm
No salvation, No forgiveness
Placing a hectic morning, it was certainly terrible. Forst it was the tormenting hangover, and then I'm still sleepy and to rush onto all, it's the running time and I so called misplaced my wallet. It took me atleast half an hour to find it when I discover it under my dog. Went down for the soccer match and meat alot of my "friends". Didn't really bother on talking to any of them though. They just seem rebellious as usual. To my eyes, I don't really feel they even got the initiative to make it up to me when they are already in the wrong. How am I suppose to go forward and talk to them, when that was what I've been always doing?
It always take two hands to clap.
Today was job meeting, things seem a little more than what I expected. It seems to be alot of sales and it obviously seem to be alot of involvement and initiative. Now this is going to be a bigger challenge to me. I've got to put everything aside and concentrate on this, not like what I did for my N level. Flopping it because of a selfish friend of mine.
Visiting the soccer match, seems to be alot of information. I learnt alot of things from some people and I was able seperate things now. It is obvious that they treated me like this and not me treated them like this. For me, I just want them to take initiative to address everyone of us. And not just address me/us for pool or soccer.