info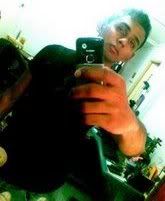 a twenty year-old soldier, deeping an escape fantasy into the wilderness of lifestyle, fashion, music, politics and the suffocation of everyday living. allow me to take my emotions and paint the world white.



facebook - friendster - myspace




LINKS
aaron.
erns.
jun.
rach.
zen.
zi chee
broth.
going om.


Andrea Crews
BryanBoy
Borderline
C.O.A.C.D
F.A.D
La Femme
Luis Avia Roma
Pink! is the New Blog
The Face Hunter
The Sartorialist
Ultra8201
Wardrobe Remix
WISHLIST
MACbook
new wallet
new phone
oni tigs



TRACK

Rihanna - Disturbia



TRAVEL
Bali
Cambodia
Koh Phi Phi


EATARY
BROTH just sliding off those sleezy bar by the junction. located above Duxton Hill, comes a very relax and romantic get away-like semi-fine dining heaven. Where modern Australian is a choice and service is at it's excellence.

Lunch : Mondays to Fridays Dinner: Mondays to Saturdays
10 January 2005 @ 10:32 pm
1st day of sch.
In cold shimmering light, I walked down the road waiting to enter my new realm. Slowly by slowly, nervously as I walked down the path to the school's canteen. It seem to be not my forte but I had to do it anyway. First impressions as bridge leaders work their way for our orientation. It never really was grand but atleast the though that counts. We played few games which was really a silly in the pot. How could we run early in the morning with either uniform or home clothes? And further more we're all in the first impression basis. Honestly, orientaion was seriously boring. Walk around and look here and there, play stupid games and interact with retarded classmates who can't even remember names. It's tiring actually cause I'm actually not in the mood at all. It's just a sudden swing of time. Use to be a night person actually for this past 7 months and now suddenly I got to get up 6:30am? We've got another round of orientation tomorrow. Please let this be a little more interesting. Actually it's entirely from an individual's mindset on if to manage the whole shit in a professional manner or not but I just simply guess that it might take more time through this new encompassing. Fadzulie is really bored out of this, always seeing him alone and so sian looking. I guess his not enjoying too. Still remmeber when we ran away from that stupid treasure hunt game just to chill at the canteen. The good news is that we got new food and they are extremely cheap. Thats the good side so far. Lets see how weel we pay for the class. As far as it goes, my class advisor is from india?