info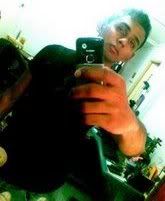 a twenty year-old soldier, deeping an escape fantasy into the wilderness of lifestyle, fashion, music, politics and the suffocation of everyday living. allow me to take my emotions and paint the world white.



facebook - friendster - myspace




LINKS
aaron.
erns.
jun.
rach.
zen.
zi chee
broth.
going om.


Andrea Crews
BryanBoy
Borderline
C.O.A.C.D
F.A.D
La Femme
Luis Avia Roma
Pink! is the New Blog
The Face Hunter
The Sartorialist
Ultra8201
Wardrobe Remix
WISHLIST
MACbook
new wallet
new phone
oni tigs



TRACK

Rihanna - Disturbia



TRAVEL
Bali
Cambodia
Koh Phi Phi


EATARY
BROTH just sliding off those sleezy bar by the junction. located above Duxton Hill, comes a very relax and romantic get away-like semi-fine dining heaven. Where modern Australian is a choice and service is at it's excellence.

Lunch : Mondays to Fridays Dinner: Mondays to Saturdays
7 January 2005 @ 9:16 pm
starbucks singapore
Just got back from my third attachment shift in SB-TY. Today was great, I learn so many things and able to say I'm quite a confident barista finally. It's not that easy being in starbucks anyway. reagrdless of the drinks making or the drink calling or the POS station, I feel that the most impt thing working there would be the communication and the 'know your job' attitude. I enjoy working in starbucks and i actually dedicate this post to starbucks singapore. Would like to thank you for the chance given to me apart from my slow performance. I also was able to interact with so mnay differnt people from rude kids to rude adult and really generous customers and those who accept the barita's offer/help. And of course so many other mis-pronounciation like re-formatting a 'Mocha' into a 'MO-CHAR', 'MO-CHEE' and 'MO-CHO'. Or stairing at a board for so fucking long and then choosing the first drink from the menu-board and also pronouncing it wrongly like this customer who said 'LA-TEA' instead of 'LATTE'. When you serve this kinda customers, you really feel like laughing your ass off just stright to their face. From my attitude, I will do that if I got a chance but self-control plays such a big fucking role in this. I'd like to know more and become a professional in almost every station that i stand or slide to. The now biggest aim is to not get any mistakes in my POS. I'm gonna try all my best to do that and achieve that.