info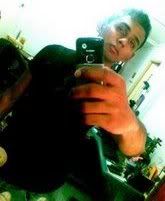 a twenty year-old soldier, deeping an escape fantasy into the wilderness of lifestyle, fashion, music, politics and the suffocation of everyday living. allow me to take my emotions and paint the world white.



facebook - friendster - myspace




LINKS
aaron.
erns.
jun.
rach.
zen.
zi chee
broth.
going om.


Andrea Crews
BryanBoy
Borderline
C.O.A.C.D
F.A.D
La Femme
Luis Avia Roma
Pink! is the New Blog
The Face Hunter
The Sartorialist
Ultra8201
Wardrobe Remix
WISHLIST
MACbook
new wallet
new phone
oni tigs



TRACK

Rihanna - Disturbia



TRAVEL
Bali
Cambodia
Koh Phi Phi


EATARY
BROTH just sliding off those sleezy bar by the junction. located above Duxton Hill, comes a very relax and romantic get away-like semi-fine dining heaven. Where modern Australian is a choice and service is at it's excellence.

Lunch : Mondays to Fridays Dinner: Mondays to Saturdays
5 February 2005 @ 10:19 am
bleeding within
Woke up early, to meet that big fat rachael to accompany her down to the salloon to cut her grass alike hair. And then this weird thing call e and can ask me if she still wan to cut her hair or not. In the end, I woke up so early for nothing. I hope someone ride a bicycle and just bang her. She and her stupid dog, ah boy. Both also no difference. Suppose to go out today for pool and then to queensway. But I don't think I can make it for those. Firstly, I lost all my mood yesterday evening while talking to my baby. Everythng is just seeming so bad I felt. Everything keeps repeating and the usual isn't existing anymore. All just seems so dying and withering away. And it's hard to cope with this. I never wanna loose you. You meant alot to me than anyone else. Secondly, I don't have much cash to spend also. Can't possibly just go out without any cash. Fucking bastard starbucks delay my mother fucking pay for so long. And the fucking Transit Link cheebye thing, got to wait for so fucking long just to collect few dollars that THEY owe me, cheebye. Thirdly, I've not completed my homework at all. Four dumb drawings I had to do but I've not even started the basic on it yet. It's just so fucked up with this tight schedule and all. I just can't wait for my pay. Got to settle my bills, buy my school bag, buy some manson t-shirt, PVC pants, etc.