info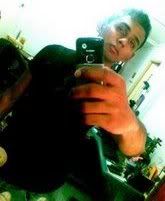 a twenty year-old soldier, deeping an escape fantasy into the wilderness of lifestyle, fashion, music, politics and the suffocation of everyday living. allow me to take my emotions and paint the world white.



facebook - friendster - myspace




LINKS
aaron.
erns.
jun.
rach.
zen.
zi chee
broth.
going om.


Andrea Crews
BryanBoy
Borderline
C.O.A.C.D
F.A.D
La Femme
Luis Avia Roma
Pink! is the New Blog
The Face Hunter
The Sartorialist
Ultra8201
Wardrobe Remix
WISHLIST
MACbook
new wallet
new phone
oni tigs



TRACK

Rihanna - Disturbia



TRAVEL
Bali
Cambodia
Koh Phi Phi


EATARY
BROTH just sliding off those sleezy bar by the junction. located above Duxton Hill, comes a very relax and romantic get away-like semi-fine dining heaven. Where modern Australian is a choice and service is at it's excellence.

Lunch : Mondays to Fridays Dinner: Mondays to Saturdays
1 February 2005 @ 10:44 pm
a broken desire
Playing occupied my activity after school today. Went down to SGS and was playing an doing rubbish again. Meet Ain after such a long while finally. Was cranking aroud with Corey, Fad, Saleh, Ernie and stuff. Playing and laughing and just simply enjoying myself. Meet my baby after school, had to rush home and prepare to meet baby. Was kinda rushing but it don't bother much actually. Even though it was such a short time, it was well somewhat worth it. At leats we get to spend some time together even thought I know that both of us don't really seem to be like what we use to be. It was all everything for each other way before and now it's all not what it was anymore. We don't share that 'thing' with each other anymore. That strong 'attitude' isn't there anymore. Each time I say I'm in SGS with friends or with Corey and stuff and you just pull off your black face. I'm having a bad time with that. I feel so insecure sometimes. Feeling that you might just walk off my surrounding. I know what I went throught last year and you were the one that help me pull through it so well and made me feel good about myself after a giant broken desire on everything. You changed my destiny and you re-mould me and I really love you for that. But It is honest that he has changed and well, also willing to talk to me. I don't know how long it will last but at least maybe things have changed and my friendship with him has became better. And I'm very happy it did though cause I really do treasure him that much. Even I don't know a fucking shit why that is so. Serious.