info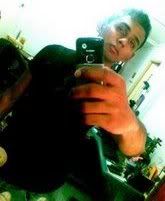 a twenty year-old soldier, deeping an escape fantasy into the wilderness of lifestyle, fashion, music, politics and the suffocation of everyday living. allow me to take my emotions and paint the world white.



facebook - friendster - myspace




LINKS
aaron.
erns.
jun.
rach.
zen.
zi chee
broth.
going om.


Andrea Crews
BryanBoy
Borderline
C.O.A.C.D
F.A.D
La Femme
Luis Avia Roma
Pink! is the New Blog
The Face Hunter
The Sartorialist
Ultra8201
Wardrobe Remix
WISHLIST
MACbook
new wallet
new phone
oni tigs



TRACK

Rihanna - Disturbia



TRAVEL
Bali
Cambodia
Koh Phi Phi


EATARY
BROTH just sliding off those sleezy bar by the junction. located above Duxton Hill, comes a very relax and romantic get away-like semi-fine dining heaven. Where modern Australian is a choice and service is at it's excellence.

Lunch : Mondays to Fridays Dinner: Mondays to Saturdays
12 March 2005 @ 6:14 pm
a boring saturday.
Featuring an ever boring and bothering saturday, hanging down the hanger with nothing else to do but drown in the glareness of my computer screen, hearing myself tying over the keyboard to make my blog grow and grow. It isn't such a great day after all, was suppose to go to work tomorrow but fella told me I don't have a place. I somehow think I'm not in SB-ML anymore. Because everytime I give a shift on saturday, i don't get any. I don't understand, why don't give me the shift since I only ask for one day. And I've not been working for a very long while. Presuming I've forgotten majority steps in starbucks.

Come to think of it, the venice trip has already began. And not very obviously mentioned to my knowledge, there would be one unexpected center of betrayal on his way down there too. Yesterday's pool was something I actually realise so obviously that no one actually talked to me. Can't be bothered actually but I wonder why. I suppose I think someone must have gossip or poke up a fire to them. After all, that was what that person was doing all these while when he was on my side. Poking fire to me on how much he hated Suman, and how much Jian Chuan isn't changing at all and continuing his gossip even though I insisted that he had changed himself. It's the same this time, he must have parcelled all the hate and shared among them all. After all, I was the one who suggested to let Jian Chuan come back to the group and that person was the one who wanted Edmund to be boycotted without a perfect reason. It's betrayal on everyone's back, wait till they have a taste of their own medicine. It's far too much to handle, look at how things are turning now? It was plain your fault for making this distance and you are gorwing on it anyway.

I'm just so bored today, i think i would be meeting Mary tomorrow with PK. Going to do some vocal testing. Been quite a long while since that happened and I'm lagging so much by that.