info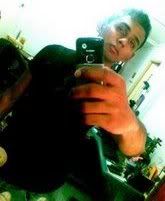 a twenty year-old soldier, deeping an escape fantasy into the wilderness of lifestyle, fashion, music, politics and the suffocation of everyday living. allow me to take my emotions and paint the world white.



facebook - friendster - myspace




LINKS
aaron.
erns.
jun.
rach.
zen.
zi chee
broth.
going om.


Andrea Crews
BryanBoy
Borderline
C.O.A.C.D
F.A.D
La Femme
Luis Avia Roma
Pink! is the New Blog
The Face Hunter
The Sartorialist
Ultra8201
Wardrobe Remix
WISHLIST
MACbook
new wallet
new phone
oni tigs



TRACK

Rihanna - Disturbia



TRAVEL
Bali
Cambodia
Koh Phi Phi


EATARY
BROTH just sliding off those sleezy bar by the junction. located above Duxton Hill, comes a very relax and romantic get away-like semi-fine dining heaven. Where modern Australian is a choice and service is at it's excellence.

Lunch : Mondays to Fridays Dinner: Mondays to Saturdays
11 March 2005 @ 10:24 pm
By! goes to army today.
I got myself up hard, but exert all my force to it. Today is going to be a big day in someway that wasn't really expected and wasn't really that big anyway. My so call left and my right shifts away from me for some time. It's hard to accept this form but it's necessary.

And it's hard to accept this since I'm hanging by the edge of a crued globe of entire depression, melancholy, despair and self-hatred. I caught myself inbetween rough emotions that are gradually evolving into scabs. And this scabs are being to obvious, I pinched on it, and it hurts more on my total self than the overall hatred on the other self. Visions and thoughts just running pass so swiftly that I'm high on virtual dopes. I recoil even thought I had

happy hours*.

And things just keep adding. I wish I would'nt blog about this but I have to blog this in a way that I didn't blog this. I hope it might help in multiple way by doing this. My surreal are somesort becoming reality. And it trickles into my blood veins. This develops a huge fear in myself that I am going to jail for my kindness. Is this just a paranoia? Fuck, my pockets are empty again.

I somehow believe that I am my own jinx in anyway or anyhow possible ways it can be. Really wish how I am able to conjure and help me pass this living below. The great below that is uprising to our collapsing atmosphere.



happy hour*

- Greeted a smile out to meet Corey and Fadzulie at Corey's house first. Meet the people now I believe that I suppose would be the almost slightest joy. Used his computer for sometime before meeting Rachael at the bus stop opposite metal ring. Went down the road in 76 and picked the join of the rest of the company whom I really don't give a simple shit at all. Went playin pool at Parkway Parade which I won and lost as games progresses. Fadzulie confim has a pool table at home. His faking his bullshit that his new to pool. After pool, we foolishly rushed down to meet Zi Chee for Bishan. She wanted to get books.