info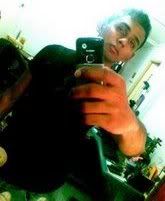 a twenty year-old soldier, deeping an escape fantasy into the wilderness of lifestyle, fashion, music, politics and the suffocation of everyday living. allow me to take my emotions and paint the world white.



facebook - friendster - myspace




LINKS
aaron.
erns.
jun.
rach.
zen.
zi chee
broth.
going om.


Andrea Crews
BryanBoy
Borderline
C.O.A.C.D
F.A.D
La Femme
Luis Avia Roma
Pink! is the New Blog
The Face Hunter
The Sartorialist
Ultra8201
Wardrobe Remix
WISHLIST
MACbook
new wallet
new phone
oni tigs



TRACK

Rihanna - Disturbia



TRAVEL
Bali
Cambodia
Koh Phi Phi


EATARY
BROTH just sliding off those sleezy bar by the junction. located above Duxton Hill, comes a very relax and romantic get away-like semi-fine dining heaven. Where modern Australian is a choice and service is at it's excellence.

Lunch : Mondays to Fridays Dinner: Mondays to Saturdays
7 March 2005 @ 8:24 pm
everything against everything else.
Everything against everything else.

Everything seem so dark today. From the wee hours of the sunshine that stroke on our fresh flesh to the night that falls upon us every day. It was entirely horrific. I was in a carnation of a war against everything else. I know that one isn't always right or perfect in any sort of ways. And thinking or assuming that you are right and that what that you did was right is just a stupid idea of a typical human being living in a naive stereotype society. Anyway, as I was walking to school; this bald headed, ugly in the morning looking beefed up tummy design exploration teacher was stalking over me. He caught a glimpse of my newly bought book and started gving

demoralising

critism over it. As it was holding a not "normal" or just not your ever regular say-cheese-as-I-take-your-wide-smiled-face picture kinda front cover. he started increasingly being ever regular "normal" as he can be and provide me an advise that he again "thinks" that is right.

What is right and what is wrong? Is there a very specific term to state that?

I doubt that. Since he started his blabbering, I myself started my own inside of my head. I was doing more of a look-at-what-they-got-to-go-and-say-and-make-yourself-think kinda rampage. Or I should'nt say rampage, it's more like a campaign.

There came morning class with my favourite teacher Miss Janet. And to my suprise (expected actually) , my group was assign to a project which I didn't take a single percent of contribution to it. Which i assume I would have failed it anyway. But I tried to provide the least by atleast presenting cause I was *actually a mature presenter (*source given from section head.). But the most that you can do to trigger my bullets into your head was to entirely ignore me. That not-right-person who looks like a jesus on a scarecrow who calls himself kenneth indulge his ignorence towards me. i was most at high until I just blew up by giving that sacarstic question which made him open his fucking gab. So as I was presenting perfectly, that indon maid that acts pretty; lulu, was correcting my english.



"LOOK! YOUR ENGLISH ITSELF SUCK SO BAD. AND YOU ARE TRYING TO CORRECT MINE?"



You got to be kidding entirely man. She speaks as if she is so confident and she come and boast that she is a good presenter (with fucked up indonesian style english that is).

If you're going to become something, you got to be the least, perfect at it. And if are evn in you 99%, you ain't worth that bill at all.



So it went good and Me, Fad and Casper slacked at KFC Junction 8. We were waiting for Corey, and when he came, Casper left. SO it was 3 of us yet again. Playing our silly-self away and ended up laughting all our lungs into air. As we were heading back down to SGS, we caught ourself up with shit. A

KELING

volunteer who wanted to sell his donation ticket. In a typical manner to rush things off, I just wave my hand up (which I do often to volunteer/donation collector) to avoid him cause we were rushing down to SGS to meet Ernie whom we can't contact at all. That keling proposed a fucked up reply. He said "can't open your mouth isit?" Which was so fucking not a volunteer who would talk like that. Cause I am a volunteer myself and I know myself on how to picture myself to society inbetween this deed/act. Even though I know that i am a typical short tempared person, I still do cover it all up inside instead of just jerking off your attitude to society. Then he called us back and headed stright down to me and provoking his gangsterism towards me. I got entirely pissed and took a flip at his ticket to acquire his donation foundation that he is working for; which he fliped it away from me and continue potraying himself that he is bigger than me. His partner-in-keling-slut came towards the scene and pull his had back and told us to "fuck off". So my simple policy resulted to this act, the police. I explained to the officer and they were tipping down to the scene. Just in time came the head for the donation that those kelings were under. She was quite reasonable in some way and she wanted me to wave off that report I just made. So to safe time for her(ONLY!), I called the police to wave the report off. Or else, I would get that keling where he always belong like all his family and friends fit on.So it was that and we had happy hour at athar and drinking away. Took a really long walk down the private houses, Japanese cemetry park and more private houses. Most of the private houses were just so beautiful and eligent. Then as we were at bowen, I call came and I and my girlfriend quarelled as usual due to me changing plans which she herself delayed. And there was a bad day yet again adding up to the whole pile of shit. And it came up for me to face another mother fucker bus driver who assumed/accused me for stealing someone else ez-link card. I was furious, so i told him to read up my name and he replied to me he don't know my name. What a stupid motherfucker he is. So I corrected him yet again and told him I don't care if you know my name or not. i want you to read it. So I took off my I/C and ITE ez-link card to prove to him my name. Doesn't that not only clear his doubt but prove to him that it is mine. So he keep denying that he was not accusing me when his first sentence was an accusation one. So I just snetch my card and walked deep into the bus end.Ernie called me and i spoke the-bad-day-out to her and she was a little part of making me smile. So I'd like to thank her for that oppertunity. I doubt i'd be attending school tomorrow cause I'm going to watch movie with baby. I don't want to get to school to get into more raw trouble again. I just need to get my day away.