info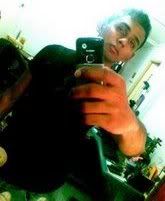 a twenty year-old soldier, deeping an escape fantasy into the wilderness of lifestyle, fashion, music, politics and the suffocation of everyday living. allow me to take my emotions and paint the world white.



facebook - friendster - myspace




LINKS
aaron.
erns.
jun.
rach.
zen.
zi chee
broth.
going om.


Andrea Crews
BryanBoy
Borderline
C.O.A.C.D
F.A.D
La Femme
Luis Avia Roma
Pink! is the New Blog
The Face Hunter
The Sartorialist
Ultra8201
Wardrobe Remix
WISHLIST
MACbook
new wallet
new phone
oni tigs



TRACK

Rihanna - Disturbia



TRAVEL
Bali
Cambodia
Koh Phi Phi


EATARY
BROTH just sliding off those sleezy bar by the junction. located above Duxton Hill, comes a very relax and romantic get away-like semi-fine dining heaven. Where modern Australian is a choice and service is at it's excellence.

Lunch : Mondays to Fridays Dinner: Mondays to Saturdays
6 March 2005 @ 9:25 pm
to adore the holy apocalypse and the endtimes. 
//to adore the holy apocalypse and the endtimes.

This isn't a profound idealogy or any interpretations that I believe in. This was what just made active recently in an encompassing that I live in. We were all in unity until everything starts to speak an end. And everything starts diverging into various places. It all seem so perfect until it had to be corrupted in someway. A selfish being had to just puncture the perfect cky and make things so different in a bad way. This person had to just potray himself as if he was a victim and force every of his deed as something he did best to society. His selfish act had to cause so much long-terms just depelat and break down to cry. It's not like i didn't try; I did. I tried all my very best to fix everything up and stick things to perfection but his stubborness just picture a dismay in eveything. Things could be bounce up perfectly if not for his pathetic mindset and confidence. He just have to assume everything and make things sound so right to his knowledge. He gets over paranoid in almost the most minor thing and he belief that his path is the best, which it isn't in any way true. For how I wish for someday he might just knock himself some sense (cause it's entirely impossible for me or anyone else to do so) and get himself a worth-while say to anything that he wants to say instead of making a simple fool out of himself. Because each time he starts messaging or saying something; it just seem so immature and childish. Without a doubt; actually, there are people who support this staements that I make. I really hope you read this and know how much you lag in the entire situation. Cause you really do in whole. Start thinking more and stop assuming and getting youself into more and more unwanted problems.