info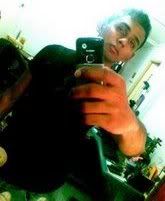 a twenty year-old soldier, deeping an escape fantasy into the wilderness of lifestyle, fashion, music, politics and the suffocation of everyday living. allow me to take my emotions and paint the world white.



facebook - friendster - myspace




LINKS
aaron.
erns.
jun.
rach.
zen.
zi chee
broth.
going om.


Andrea Crews
BryanBoy
Borderline
C.O.A.C.D
F.A.D
La Femme
Luis Avia Roma
Pink! is the New Blog
The Face Hunter
The Sartorialist
Ultra8201
Wardrobe Remix
WISHLIST
MACbook
new wallet
new phone
oni tigs



TRACK

Rihanna - Disturbia



TRAVEL
Bali
Cambodia
Koh Phi Phi


EATARY
BROTH just sliding off those sleezy bar by the junction. located above Duxton Hill, comes a very relax and romantic get away-like semi-fine dining heaven. Where modern Australian is a choice and service is at it's excellence.

Lunch : Mondays to Fridays Dinner: Mondays to Saturdays
6 March 2005 @ 9:00 pm
to town with corey.
A simple active day out with Corey to town today. Firstly we went to far east. I got myself 2 t-shirt. 1 is Manson's Holywood edition and the other is a Smahing Pumpkin's Machina/ the machine of god t-shirt. Both were great and Ive no regreats on getting both of them. I also bought a Manson badge (as usual) and a 'The Phantom in the Theatre' pandent from cheeks. We had our lunch in Subway. We went to Kinokunita in Takashimaya and I bought Marilyn Manson's The Long Hard Road Out Of Hell autobiography book from there. Saw some really expensive tarot cards too. We then went to HMV and was just browsing around the booths aimlessly. We went to Starbucks later to have some cold beverage to chill the day out. Afetr that slight refreshment, we headed down to Boarders and I bought NIN's Things Falling Apart cd from there. And to my horror, I finally realise that I actually misplaced my discman which consist of my newly purchased Holywood cd. I'm so depressed by that but anyway Corey is gonna sell me his Discman for $50. So the tension isn't so tragic afterall. Just can't wait to get that discman to fill my new cd in it.