info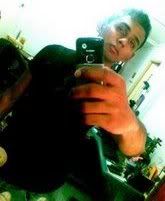 a twenty year-old soldier, deeping an escape fantasy into the wilderness of lifestyle, fashion, music, politics and the suffocation of everyday living. allow me to take my emotions and paint the world white.



facebook - friendster - myspace




LINKS
aaron.
erns.
jun.
rach.
zen.
zi chee
broth.
going om.


Andrea Crews
BryanBoy
Borderline
C.O.A.C.D
F.A.D
La Femme
Luis Avia Roma
Pink! is the New Blog
The Face Hunter
The Sartorialist
Ultra8201
Wardrobe Remix
WISHLIST
MACbook
new wallet
new phone
oni tigs



TRACK

Rihanna - Disturbia



TRAVEL
Bali
Cambodia
Koh Phi Phi


EATARY
BROTH just sliding off those sleezy bar by the junction. located above Duxton Hill, comes a very relax and romantic get away-like semi-fine dining heaven. Where modern Australian is a choice and service is at it's excellence.

Lunch : Mondays to Fridays Dinner: Mondays to Saturdays
26 April 2005 @ 10:30 am
bleedingthrough the athem of decay
Yesterday after school, I was suppose to go to that motor uncle's death prayers. But I was too lazy to do so and ended up at athar to meet Fad. When he arrived, he informed me that Ernie was at Hougang point's Coffee Bean. And so we walked down there to slack with her. Talked things out and shared some opinion, and of course also manage to bully her like write 'ernie is stupid', 'ernie is gay', 'ernie butoh' and etc. on her sticky pad. Also dropped off some oreo biscuits in her file and bullied her all the way while we were talking seriosuly. Something suprisingly happened too when we were there. And that excuse didn't really make sense at all. Later on, Ernie's retarded cousin came. Daniel is a pure retarded. He is really really fucking spastic. I think maybe it runs in the family. I guess I'm going down to Serangoon Garden's Macdonald to drop by at Ernie, Huilin and Rach self-studying schedule. Miss them quite a bit. Still waiting for the time we are going to go out and hang out like we use to last year.

Gradually establishing a statement, but seemingly without an answer. A quiet kind of retribution that torments me in inner ways. I've tried substantiating everything I've said and done. But not everything seem to be working out. I'm beginning to understand alot of things in alot of ways. My position in your perfect world, and my downfall accompaying it.

Values and believes being the most important part or everything, making bonding and your perfect world difficult for my stand. I think I'm like somewart a martyr or something. Like what I'm going through now, it's all accompanying my personal believes. Which numerous individuals acclaim their against-stand. Thats why I'm oftenly loosing companions and seeming to doubt or question everyone's words or deeds. Maybe like a sceptic or something. No place to stand about and around, progressing into more despair. I wish I was the king, atleast I'm somebody now. Atleast I'm worth looking at this like. Not being blasphemy or something but it's indeed very blatant how I'm treated. I hope I just am able to get back in order. In shape and get back what I lost recently. I'm not ranting off anything, I'm speaking whole-heartedly.

I also begin to understand how people look at me. I'm being looked at the same way I looked at my mom. And everything seems to be repeating in a cycle that never has a broken end. And I hope people do like it now, cause I like what that I saw.