info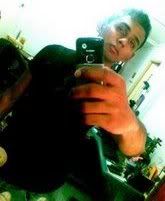 a twenty year-old soldier, deeping an escape fantasy into the wilderness of lifestyle, fashion, music, politics and the suffocation of everyday living. allow me to take my emotions and paint the world white.



facebook - friendster - myspace




LINKS
aaron.
erns.
jun.
rach.
zen.
zi chee
broth.
going om.


Andrea Crews
BryanBoy
Borderline
C.O.A.C.D
F.A.D
La Femme
Luis Avia Roma
Pink! is the New Blog
The Face Hunter
The Sartorialist
Ultra8201
Wardrobe Remix
WISHLIST
MACbook
new wallet
new phone
oni tigs



TRACK

Rihanna - Disturbia



TRAVEL
Bali
Cambodia
Koh Phi Phi


EATARY
BROTH just sliding off those sleezy bar by the junction. located above Duxton Hill, comes a very relax and romantic get away-like semi-fine dining heaven. Where modern Australian is a choice and service is at it's excellence.

Lunch : Mondays to Fridays Dinner: Mondays to Saturdays
22 April 2005 @ 1:13 pm
corey making us wait.
We didn't mean to be rude or disrespectful towards you yesterday afternoon when you passed me the cash. But we could'nt stand the fact that, everytime we have to wait for you for about an hour or two, spending your time with her. It's not like we want you to meet us everyday. On monday and tuesday, you didn't slack with us. On wednesday, you were late for quite long. I didn't shout at you, instead, talked to you nicely because I didn't want to spoilt the day. Then yesterday, you made us wait for almost 2hours. We were expecting you for so long, thinking that you're on the way but you ain't. When i called you the second time, you were still there. It's not only me, I think you can see that fad is also angry with you. That was why, when you pass me the cash, he didn't even look at you. He was very pissed with you, everytime making him wait for so long. We are your friends, we are not your dog. Hope you understand that. From monday to friday you're meeting her. For just that afternoon, you make us wait and in the end, we will get angry and the whole day is ruined. We both felt sorry for what we did, walking out on you yesterday afternoon, but we don't have any other choice. We hope you apologise to us by making yourself punctual the next time. And not saying sorry again and again but you still make us wait very long. On saturday, I suppose I and Fad will be going to gym, since you're going to watch a movie. So I hope you sms or call fad and tell him that you will atleast meet us on saturday night. Cause we plan on slacking at athar.