info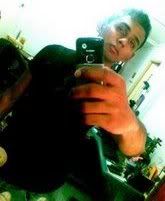 a twenty year-old soldier, deeping an escape fantasy into the wilderness of lifestyle, fashion, music, politics and the suffocation of everyday living. allow me to take my emotions and paint the world white.



facebook - friendster - myspace




LINKS
aaron.
erns.
jun.
rach.
zen.
zi chee
broth.
going om.


Andrea Crews
BryanBoy
Borderline
C.O.A.C.D
F.A.D
La Femme
Luis Avia Roma
Pink! is the New Blog
The Face Hunter
The Sartorialist
Ultra8201
Wardrobe Remix
WISHLIST
MACbook
new wallet
new phone
oni tigs



TRACK

Rihanna - Disturbia



TRAVEL
Bali
Cambodia
Koh Phi Phi


EATARY
BROTH just sliding off those sleezy bar by the junction. located above Duxton Hill, comes a very relax and romantic get away-like semi-fine dining heaven. Where modern Australian is a choice and service is at it's excellence.

Lunch : Mondays to Fridays Dinner: Mondays to Saturdays
21 April 2005 @ 9:38 am
death of motor uncle
I never expected something like this, when my sister told me the news that my uncle (no blood relation) passed away on good friday. He use to stay around my neighbourhood. He together with his wife were the only people who were nice that lives around us. The couple were the only people that me and my family were close too. I address him as motor uncle as he use to ride a motor that oftenly parks nearby my house. It was such a tragic and sudden incident. I can't ever believe that such a thing happened. I never even got a chance to see him before his cremation. I guess I'll be attending his prayers on coming monday.

After school, we manage to slack. Was suppose to meet Fad's scandal, but didn't get the chance to do so since she claimed that she had sudden oral examination. So we decided to get down to AMK. We waited for Corey again, for quite long. I was quite pissed cause we are always waiting for him for so long. He is very selfish. Everytime making us wait, and always the same old fucking reason. Try thinking about us, and try understanding our situation. Waiting for you like dogs for so long while you enjoy and waste the time away. I hope you get something up your head this time. So we went to AMK to find a place to sell my phone for the higest price. We manage to do our nonsense in AMK also. I crossed the road when it was red man, and the whole fucking crowd just followed me blindly. I manage to walk to the center of the road and the rest of the crowd got honked by passing by cars. And it all started because of ME, yet again. So we found a shop that can purchase my phone for a higher price and sold it off. We went to sportlink after that, and later to sembawang bookstore to play lego. We went to s-11 coffee shop after that to eat and saw another 2 fucking ugly bapoks. We then walk all the way from AMK MRT station to Serangoon. Took a bus to athar to drink teh tarek. And after that, we walked all the way to Mr dennis's condo. Singing and disturbing people as they walk by.

I'm totally sick right now. having terrible flu an my english really suck. I know that. I hope I manage to slack again later with Fad and Corey. Will be going down to AMK and maybe somewhere else.