info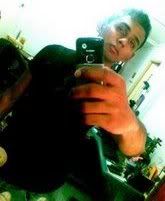 a twenty year-old soldier, deeping an escape fantasy into the wilderness of lifestyle, fashion, music, politics and the suffocation of everyday living. allow me to take my emotions and paint the world white.



facebook - friendster - myspace




LINKS
aaron.
erns.
jun.
rach.
zen.
zi chee
broth.
going om.


Andrea Crews
BryanBoy
Borderline
C.O.A.C.D
F.A.D
La Femme
Luis Avia Roma
Pink! is the New Blog
The Face Hunter
The Sartorialist
Ultra8201
Wardrobe Remix
WISHLIST
MACbook
new wallet
new phone
oni tigs



TRACK

Rihanna - Disturbia



TRAVEL
Bali
Cambodia
Koh Phi Phi


EATARY
BROTH just sliding off those sleezy bar by the junction. located above Duxton Hill, comes a very relax and romantic get away-like semi-fine dining heaven. Where modern Australian is a choice and service is at it's excellence.

Lunch : Mondays to Fridays Dinner: Mondays to Saturdays
7 April 2005 @ 9:37 am
The end of all things to come
Blogging is the best way to express your natural term and also a little touch on a hot soup of controversy. But facts are facts and truth is the truth. If you think my advertising is wrong, then simply just pen a ounter on my chatterbox.

Jas; you got back from canada (i don't know when). Mary claim to me that you did that cause eunice wasn't actually taking care of you and he lied to you in some cases or another. You didn't give me a call at all so I decided to give one up to you since Mary and Vithya claim that you're not responding to any of their calls or smses. We talked, but it wasn't any usual like how it has been. And I'm seriously questioning that. I'm getting very not welcome each time I talk to you. And it has been twice since that happened. Firstly; when i asked you certain questions, you came up with straight forward replies. This isn't actually what you were. You never were like this before you went to canada. Secondly, you gave me call(S) yesterday night repeatly enquiring on the ATM case. You sound so suspicious over me and you seem to embark a question mark towards me. A question mark to not only me but to our friendship. i think something IS really wrong with you and you got to start working on that or i will just switch you off from my sight. Cause I can't play a role to pretend that I'm happy when I'm not. You question me, it was reasonable. But you were very unhappy with my replies. I suspect from now on, things won't be the same again. I'm very sure something is depleating.

It's been a great time with Fad and Corey as usual playing and fooling and kidding around. Things has changed for Corey in someways negleated by Saleh, Jian Chuan the KING OF GOSSIP till date, Herman, Jonathan, Soon Seng and Ben the I DON'T KNOW HOW HE APPEARED. I don't know whats the deal with these people anyway. Maybe some bad controversy by some new people or maybe the same old bastards should be the ingredient to all of these. Simply, if Saleh was bringing his bad blood towards Corey with this revenge, then it's simply fucking childish and toddlish. Afterall, people are capable of doing that via jealousy. It's also quite problematic since Saleh wasn't able to be with us. His oftenly blabbering things which makes things more difficult. It's not like I didn't reach out the hand to talk to him but his just providing simple get away messages like 'this is life'. I just wonder why he can't get over it normally.

With both Jas's and Saleh's probem, it's driving me crazy. Either one has to be solved or both for the better. In someways I hope Saleh would be the easier one to solve unless he is egostic.