info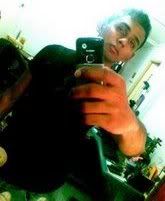 a twenty year-old soldier, deeping an escape fantasy into the wilderness of lifestyle, fashion, music, politics and the suffocation of everyday living. allow me to take my emotions and paint the world white.



facebook - friendster - myspace




LINKS
aaron.
erns.
jun.
rach.
zen.
zi chee
broth.
going om.


Andrea Crews
BryanBoy
Borderline
C.O.A.C.D
F.A.D
La Femme
Luis Avia Roma
Pink! is the New Blog
The Face Hunter
The Sartorialist
Ultra8201
Wardrobe Remix
WISHLIST
MACbook
new wallet
new phone
oni tigs



TRACK

Rihanna - Disturbia



TRAVEL
Bali
Cambodia
Koh Phi Phi


EATARY
BROTH just sliding off those sleezy bar by the junction. located above Duxton Hill, comes a very relax and romantic get away-like semi-fine dining heaven. Where modern Australian is a choice and service is at it's excellence.

Lunch : Mondays to Fridays Dinner: Mondays to Saturdays
25 April 2005 @ 11:45 am
the grey ending.
everythign seems so grey and diluted. Everything just getting itself washed away from my presence. In this case, 2 in particular. Firstly, I've ended everything with Jas yesterday. I so-called officially threw her away out of my life due to what that she has done to me. I saw her parents yesterday to pass the cash and some other stuff mary told me to pass to her. And her parents asked me on why did Jas rana way. Which the reply was so obvious, that she loved eunice in canada. Which led her to this runaway. That is the truth, and we encouraging her to do so isn't. I would not like to elaborate any further, just like to thank few people on helping me in one way or another in this.

I would like to thank:
Ernie, Corey, Fad, Jo-n and Dev.

I would specially thank:
Mary and Vithya.

Thank you for helping me in one way or another in this moment. Either by listening to me or by helping me financially or either supporting me.

Second chapter would be on someone that use to be very close to us(Me & Fad). It seems as if things are falling apart now. Everything emarging into the abyss. Like a bottomless pit that you can't see brightness from it. Nothing seem to be progressing in any way at all. I'm not sure if you took your time to read my previous post or not. But I don't see a reply or an obvious change or what-so-ever. It seem to be so silent now. I also heard from Fad about the sms section that you both had and I seem to think that, if you say that it is nevermind that we are not friends with you. Then it is also one part of you that feels it is also nevermind that you don't haver us as friends. It's quite a shame that this is happening between us aftet all that we have been with each other. I think now, the problem isn't about Me or Fad, this is about you. Look up at it, you're able to find the friction from it. I also see that you didn't even sms or call Fad for the past few days. And most importantly, you didn't even sms him on his birthday. I tried calling you 3 times to tell you to call him to wish, but you didn't answer your call. I hope you take into consideration that we are still waiting for your call. I and Fad decided to give you 1 week from yerterday. For you to give us a call or sms to slack or meet or what-so-ever. And we will be waiting for it. Then if we don't receive any of that, we now know that we ain't important anymore. That we were just your part-time companion. That you have forgotten us and found someone new. And we will know that your girlfriend would be part of the blame. We really hope you think hard on this and change for the better.