info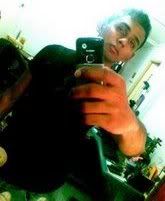 a twenty year-old soldier, deeping an escape fantasy into the wilderness of lifestyle, fashion, music, politics and the suffocation of everyday living. allow me to take my emotions and paint the world white.



facebook - friendster - myspace




LINKS
aaron.
erns.
jun.
rach.
zen.
zi chee
broth.
going om.


Andrea Crews
BryanBoy
Borderline
C.O.A.C.D
F.A.D
La Femme
Luis Avia Roma
Pink! is the New Blog
The Face Hunter
The Sartorialist
Ultra8201
Wardrobe Remix
WISHLIST
MACbook
new wallet
new phone
oni tigs



TRACK

Rihanna - Disturbia



TRAVEL
Bali
Cambodia
Koh Phi Phi


EATARY
BROTH just sliding off those sleezy bar by the junction. located above Duxton Hill, comes a very relax and romantic get away-like semi-fine dining heaven. Where modern Australian is a choice and service is at it's excellence.

Lunch : Mondays to Fridays Dinner: Mondays to Saturdays
28 April 2005 @ 9:29 am
I can never get out of you.
After school is gonna be boring from ow on, cause I've got to do manke-up lessons and Fad says he needs to go watch DragonBallZ cause he have been missing episodes cause of slacking. And it's quite dull when we end up only having both of us or either with Ernie sometimes cause she would be preparing for her examination. But sometimes, the action remains there, bullying and disturbing people as they walk pass or when we see from afar. But we still miss the third company. Waiting for that day/time for him to come and acknowledge us since you wanted time. This Friday night, I will be slacking at Athar for dinner with Ain, Fad and maybe Ernie. We're certainly gonna have a great time. It's more like a treat for both Fad and Ain as their birthdays just passed by. Anyone who wants to join us just sms Fad and he'll let me know. And Saturday would be on, we're gonna face excellent music. Talking about Lunarin. They are a great band. The trio is like my dream come true. I've been seeking for a good music local band ever since I went into the music scene and I've found them. They are totally great. like an alternative band with a pinch of goth into it. More like A Perfect Circle. Mary, Vithya, Dev, Hazanal, Harriet and someothers would be schedule to be there. It's gonna be so extravagentic.

I'm pressing on bringing in a larger goth society. Not too big or not too small but a centre group of people into the same things with us. It's gonna be great actually. Having about the same people around and mixing with them. Like what Deepan was suggesting on making a goth society kinda thingy. Still working on it. Gonna work out a classic pendemonium.

I've got so many thing locked down my sleeves. So many things to do and so many things to buy. But they're all on pending as each day passes around slowly. Firstly because, I've got no cash or either I've got no time to get it. Thats why I've got this

'Desires of Atrocity'

section installed on my blog to direct myself on what to get. Alot of plans being set up for liesure also. I planned on going for Exploring, Cycling at East Coast, BBQ, Camping, Swimming at Jurong Swimming Complex and more. All this will be done after our examination I suppose. Was discussing with Fad about this earlier and we're so exicited about this accept that we're facing some problem like lag of peoople or some of them not co-operating.

Both me and baby are going for a movie this weekend. Finally I've got the cash for that. We've been planning it for quite a long while already. And we're also planning on a BBQ. Only both of us at Pasir Ris or East Coast. It's going to be so much fun indeed. I'm really looking forward to it cause it's really been a long while since I went for a BBQ.