info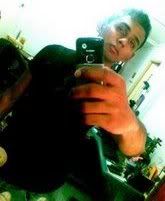 a twenty year-old soldier, deeping an escape fantasy into the wilderness of lifestyle, fashion, music, politics and the suffocation of everyday living. allow me to take my emotions and paint the world white.



facebook - friendster - myspace




LINKS
aaron.
erns.
jun.
rach.
zen.
zi chee
broth.
going om.


Andrea Crews
BryanBoy
Borderline
C.O.A.C.D
F.A.D
La Femme
Luis Avia Roma
Pink! is the New Blog
The Face Hunter
The Sartorialist
Ultra8201
Wardrobe Remix
WISHLIST
MACbook
new wallet
new phone
oni tigs



TRACK

Rihanna - Disturbia



TRAVEL
Bali
Cambodia
Koh Phi Phi


EATARY
BROTH just sliding off those sleezy bar by the junction. located above Duxton Hill, comes a very relax and romantic get away-like semi-fine dining heaven. Where modern Australian is a choice and service is at it's excellence.

Lunch : Mondays to Fridays Dinner: Mondays to Saturdays
12 April 2005 @ 10:47 am
the truth and off lies.
Alot of things are happening. Surrounding my face and into my pit of despair. I know myself and I've witness the downfall of my half legacy. I've contributed and still facing my other side with rage and revenge. Words are spreading and flying off almost everywhere, in rage or in pain, it never really matters. It's like a space you're stuck in where double the trouble gashes into you and you're providing a new bowl of soup for it.

I'm gonna deal with all of these. And I know I'm gonna do this soon.

Jas would be the biggest problem now I'm facing. I'm really crippled and dying by the minute on why that she had done this to us. Us meaning Vithya, Mary and most in particular, myself. She devoured every good thing towards the beginning. She has potray herself as an ungreatful betrayal persona. She acquired all the help from us that she needed to runaway to Canada. When she return on a sour ending, everything seem to turn over. She now act as if she is innocent towards her parents. She picture herslef as if she didn't plan this out, that we were the one who encourage her to go to Canada. Which honestly speak I didn't. Neither Me, Mary or Vithya contributed to her so call migration at all. We educated her on the dangers she might face and yet she refuses to listen. As her love for that transexual was overpowering I suppose. I can't really help it but question why that she has done this to us. She's just doing nothing much than to put up a good mask infront of her parents when at those time, she just bitch about her parents mercilessly. And her parents are even more retarded to believe her act. Her parents are enhancing that they know their daughter well enough, but I doubt. Since gossip and lies are an easier way to believe than the truth, then I guess we just have to play with that too. I will pay up her money since she thinks that I don't want to return to her and I'm keeping it all for myself. And then I wanna see what that she has got to say about the rest of the issue.

I also caught up with the Saleh thing. I don't know where in which direction it was going. Suddenly out opf no where we got so many people getting themself involved in this. Like mentioned 'bestfriends' and the 'others' and so many more. In some case, everything just seem to swindle against me. I seem to be the one whose been hated by Saleh and his mentioned bestfriend, Davin. I don't really give a shit to the rest of them hating me or so cause they ain't really important to me anyway, they are just scabbs. It seems like Saleh HATES me ever since he knew me. I ain't suprise with that. Cause he did the same to others that he mentioned to me before. It's all spinning round and round, like it don't stop. People hating each other and pending revenge. Like for Saleh, if he hates me then let it be that he hates me. I really can't do much to ammend that. But maybe he forgot the fact that before I gave up hope on him on convincing him that he is assuming that Corey didn't want to let him see Zi Chee, I helped him out all my hearts out. I tried making peace between him and Zi Chee cause I didn't ant them to split. But in the end, I'm to be blame for everything? I suppose I wasted my time and my bill on him. And I've never once thought bad about Saleh ever sicne I knew him. I always treasure him more than any of those chinese of course, since he was there listening to me when i was in despair. But then here comes davin into the picture. This guy here, when he needs help from you, he'll ask you very nicely in the most timid way. When he needed help for his eternal love with Huilin, I was their centre trying to put things together. trying to help him overcome his depression and trying to make Huilin be nice to him. It's without a doubt that I quarreled with Huilin quite a number of times because of Davin. And now, oh so he hates me so much. And then when he told me what Hakim did to him, I was comforting him and gave him my full support. I even bleed from it all knowing that what Hakim did was wrong. And I supported him and I felt for Davin and his pain the most more than HIS bestfriend, BUT again I get the shit. Being hated for counts.

With thi 2 incident that had happened, Both Jas and Saleh thingy, I've camed to notice on how that people can just overpower you some day sooner when you help them. Like I've helped Jas for Canada and I've helped Saleh for the Zi Chee thingy and helped Davin for providing him comfort, in the end, they make me realise one thing. A help has a certain limit accompanying it. When you defy it's limitation and prone on beyond, it gets ugly. Thats my mistake always.