info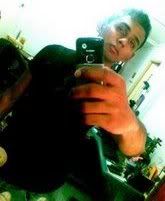 a twenty year-old soldier, deeping an escape fantasy into the wilderness of lifestyle, fashion, music, politics and the suffocation of everyday living. allow me to take my emotions and paint the world white.



facebook - friendster - myspace




LINKS
aaron.
erns.
jun.
rach.
zen.
zi chee
broth.
going om.


Andrea Crews
BryanBoy
Borderline
C.O.A.C.D
F.A.D
La Femme
Luis Avia Roma
Pink! is the New Blog
The Face Hunter
The Sartorialist
Ultra8201
Wardrobe Remix
WISHLIST
MACbook
new wallet
new phone
oni tigs



TRACK

Rihanna - Disturbia



TRAVEL
Bali
Cambodia
Koh Phi Phi


EATARY
BROTH just sliding off those sleezy bar by the junction. located above Duxton Hill, comes a very relax and romantic get away-like semi-fine dining heaven. Where modern Australian is a choice and service is at it's excellence.

Lunch : Mondays to Fridays Dinner: Mondays to Saturdays
13 April 2005 @ 12:00 pm
the world is a vampire
nothing suffocates you more than the passing of everyday human events
Yesterday after school wasn't practically exciting. But it was kinda great. There isn't a need for Corey afterall, yet, Me and Fad were still finding victims. Criticising them as usual. I suppose Me and Fad won't be seeing Corey for the rest of the week since he is busy with his life, his girlfriend and stuff. Was talking to Fad alot about the whole scenerio and he was supporting me in various logical replies. From hearing from a neutral party, it would be better. It's more realistic in the visions and thoughts. And I know and I believe in myself on what that I did was right. And as an Atheist, this is a very important part of the subject. I somehow manage to complete half of my project, which brought smiles to my face. I was kinda glad with that.



the world is a vampyre


I was talking to Mary yet again, last night. Had a long thought on our overall visions and thoughts and sharing alot about each other's sides. I came across how we can't really trust anyone anymore. Somehow somewhere, there will be hypocrits, backstabbers, liars and various other misfortunate events happening around you.



when we were good, you just close your eyes. when we were bad, you scare our minds


I also understand past events which lead to alot of controversy. It has an important lesson to be taught from this. Never really help anyone to the maximum. I felt all being a waste after all when I did that. Regardless of if it is Jas, Saleh or Corey. Because when one has received it, he will forget what that you have done immediatly when he gets blinded by hatered. Like for Corey, I'm not sure if he did tell to Saleh what I told him to. But he too I guess dissapeared suddenly once he got himself peace with Saleh, earning me the bad name for helping out.



the beautiful synthess


The only thing beautiful and astounding that happened to me lately was me catching up with Mary. And of course, my merger with Dev once again. After a long while, from that silly quarrel, costing us not to talk to each other for about a year or two. I suppose there will be alot of hanging out now with a new group. My baby would be another one who had been helping me by providing me with serious advices which really helps and it makes me think. Really miss baby, can't wait for us to meet.