info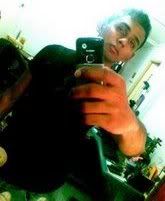 a twenty year-old soldier, deeping an escape fantasy into the wilderness of lifestyle, fashion, music, politics and the suffocation of everyday living. allow me to take my emotions and paint the world white.



facebook - friendster - myspace




LINKS
aaron.
erns.
jun.
rach.
zen.
zi chee
broth.
going om.


Andrea Crews
BryanBoy
Borderline
C.O.A.C.D
F.A.D
La Femme
Luis Avia Roma
Pink! is the New Blog
The Face Hunter
The Sartorialist
Ultra8201
Wardrobe Remix
WISHLIST
MACbook
new wallet
new phone
oni tigs



TRACK

Rihanna - Disturbia



TRAVEL
Bali
Cambodia
Koh Phi Phi


EATARY
BROTH just sliding off those sleezy bar by the junction. located above Duxton Hill, comes a very relax and romantic get away-like semi-fine dining heaven. Where modern Australian is a choice and service is at it's excellence.

Lunch : Mondays to Fridays Dinner: Mondays to Saturdays
6 May 2005 @ 11:48 am
the drug bust
Fad and I skipped school yesterday to hang around and waste time. We did something so heroic too. We were slacking in Ang Mo Kio when this malay guy caught our attention. He was sitting in this hut, which is inbetween two blocks. We spotted him injecting himself. The first set that drop my mind was that, he was taking drugs. But who ever would take drugs or inject themself in public? I had a crossover, thinking he was actually taking medication. But that can't be it, since you must only inject your stomach if you want to take medication and not your arm. So we watched him over very closely and realise that he was stoning around already. He was geedy and was very slow in his deed. We gave a ring to the police and they came down immediatly. But by then, he started taking a slow walk. They caught him in the end, and also recovered some stuff that he threw away. It contained syringe, foils, red bull bottle and some dopes too. The main reason for both of us to tip of the guy was because he was really stupid. Who ever would inject themself in public? And where evryone could witness it? Really weird and definatly a dumb drug addict.

I was highlighted over another incident just today. It regarded to a conversation that came up to be either miss-told or made-in-purpose. I heard about it and was very shock about it too. The sms given to you said 'so now she is more important to you than us?'. And your blatent reply came in saying 'glad you know'. That really pissed me off, seriosuly. How can you even compare US with her? How can you even turn to that theory? How can you even compare the both relationship with each other? So if that is the case, then why should I even bother waiting for the end of examination? I can just screw it over right now. Since she is important to you, then I stand isn'guess our friendship t there anymore. It's better still you stay with her and not us, since she is

MORE IMPORTANT

. I regard your reply very suppressive towards our friendship and that you have dissapointed it too. Glad you will realise what that you have said is not tolerable.