info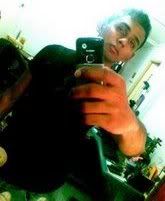 a twenty year-old soldier, deeping an escape fantasy into the wilderness of lifestyle, fashion, music, politics and the suffocation of everyday living. allow me to take my emotions and paint the world white.



facebook - friendster - myspace




LINKS
aaron.
erns.
jun.
rach.
zen.
zi chee
broth.
going om.


Andrea Crews
BryanBoy
Borderline
C.O.A.C.D
F.A.D
La Femme
Luis Avia Roma
Pink! is the New Blog
The Face Hunter
The Sartorialist
Ultra8201
Wardrobe Remix
WISHLIST
MACbook
new wallet
new phone
oni tigs



TRACK

Rihanna - Disturbia



TRAVEL
Bali
Cambodia
Koh Phi Phi


EATARY
BROTH just sliding off those sleezy bar by the junction. located above Duxton Hill, comes a very relax and romantic get away-like semi-fine dining heaven. Where modern Australian is a choice and service is at it's excellence.

Lunch : Mondays to Fridays Dinner: Mondays to Saturdays
9 May 2005 @ 8:25 am
a hot cup of coffee
the morning glory


I'm having my cup of coffee right now in the computer lab for thinking skills lessons. We're trying to tie up our loose ends for the project presentation. And I suppose that I will be doing a solo stand yet again for this. It's been quite a jam the past weekend and it was great. On friday, I and Fad was slacking at Athar again, and was joinly accompanied by Ernie about 2hours later. We were joking around and was talking about past events that happened, which gave us smiles and lame laughter. After hangingout for a long time, we took our usual walk home, unknowingly witnessing this couple fighting in public, having the police to the 'rescue'. And yes, we still made fun of it too.

Saturday went of regular with gym, but the timing was shorter than usual. I went home to sleep immediatly after that cause I was really dead tired. Headed down town in the evening and meet up with baby and faiz. We slacked everywhere possible and played pool at lucky plaza. We ate over at BK and I also got a blackforest cake from starbucks for baby since it's her birthday the day after. We caught Kingdom of Heaven at cinieliesure and it wasn't a waste at all. I highly recommand the movie. We went home really late after the movie, since it was a mid-night movie. The day after was slightly boring, since we woke up late and got really nothing to do. We just walked around Lot 1 instead.

I'm really bored now, my project seem to be not working. The floppy disk isn't working and I think I'm going to cry. I might be going down to hougang mall later with ernie or something, to use the internet in the cyber cafe. I heard it cost only 2/hr. I have to do this cause I've got alot of transaction going on in my friendster account. I'm really bored now. What is Fad doing? How come he isn't in school? BORING! And yes, we're still waiting for mid-year to end and we're still waiting for your call. Even though we know you're having fun right now.

BBQ plans are up and going gradually. We've put up this list of peoples we're inviting for it that base on one point, the fun. We're gonna have a whole lotta fun in this BBQ. But I just hope people co-operate to bring it a sucess.



the afternoon boredm


Continuing my post again from resources room with Fad. His having break and I, well lets just say I'm having break too alright? Want to surf porn, but there is someone beside us. And the mood isn't there anymore. And now playing games. I'm just finding fdor animated gifs like what I have to my right. They look so cool, but I can't get much. I'm trying hard, hope someone would help me.