info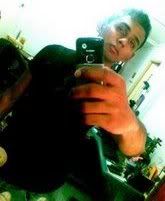 a twenty year-old soldier, deeping an escape fantasy into the wilderness of lifestyle, fashion, music, politics and the suffocation of everyday living. allow me to take my emotions and paint the world white.



facebook - friendster - myspace




LINKS
aaron.
erns.
jun.
rach.
zen.
zi chee
broth.
going om.


Andrea Crews
BryanBoy
Borderline
C.O.A.C.D
F.A.D
La Femme
Luis Avia Roma
Pink! is the New Blog
The Face Hunter
The Sartorialist
Ultra8201
Wardrobe Remix
WISHLIST
MACbook
new wallet
new phone
oni tigs



TRACK

Rihanna - Disturbia



TRAVEL
Bali
Cambodia
Koh Phi Phi


EATARY
BROTH just sliding off those sleezy bar by the junction. located above Duxton Hill, comes a very relax and romantic get away-like semi-fine dining heaven. Where modern Australian is a choice and service is at it's excellence.

Lunch : Mondays to Fridays Dinner: Mondays to Saturdays
28 May 2005 @ 4:22 pm
join me in death
I'm entirely lost today. I got really nothing to do, and baby is sleeping right now. I was suppose to meet baby and hang out or something, but theres no luck at all. Maybe later or so, I'll give baby a call again. Anyway, I somehow collected the BBQ money from kevin, really hope the rest is easier. Cause I need to start preparing stuff and all. Baby and I are planning to go down Johor to do some shopping the following week. i hope i got cash by then. i'm gonna start working coming week. Listed down my schedule already, and I'm going to be dead busy. I hope there is time for fad and the rest. I was suggesting to fad to go down Jurong Swiming Complex for a swim. It's going to be fun, seriosuly. But only Ain is busy working. She just started work and It's becoming difficult to contact her.

Fad told me some stuff yesterday, and I'm still considering about it and still thinking hard over it. And I just can't seem to come up with the best and most eligeble foundation to this. I'm stuck inbetween two sides and it's hard, really hard for me. On the first half, Fad's agenda was to merge and let go the other. Fad was saying that it's going to be very useless if we're going to put all the effort and it's of no avail. And he is right, I can't fight against that. Cause it's very true, on how much effort we put in. The result still comes to the same, concluding effortless behaviour. And it really really dissapoints us, as we're still waiting like dogs over here for a sound or signal that might please us. On the other saide, I'm considering the other party's reactions and words to me. On how I was treated and bitch about in school or in blog. On how my contributions were just blindfolded, joining him his bestfriend. So what am I to do? Where am I to stand now? How am I going to be true to both myself and fad at the same time with the best possible reaction I'm going to do when I'm approach. I don't possibly thought this would happen, and when it did. I seem to can't get my hands on the right. Now please, work with me.