info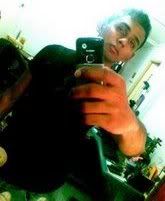 a twenty year-old soldier, deeping an escape fantasy into the wilderness of lifestyle, fashion, music, politics and the suffocation of everyday living. allow me to take my emotions and paint the world white.



facebook - friendster - myspace




LINKS
aaron.
erns.
jun.
rach.
zen.
zi chee
broth.
going om.


Andrea Crews
BryanBoy
Borderline
C.O.A.C.D
F.A.D
La Femme
Luis Avia Roma
Pink! is the New Blog
The Face Hunter
The Sartorialist
Ultra8201
Wardrobe Remix
WISHLIST
MACbook
new wallet
new phone
oni tigs



TRACK

Rihanna - Disturbia



TRAVEL
Bali
Cambodia
Koh Phi Phi


EATARY
BROTH just sliding off those sleezy bar by the junction. located above Duxton Hill, comes a very relax and romantic get away-like semi-fine dining heaven. Where modern Australian is a choice and service is at it's excellence.

Lunch : Mondays to Fridays Dinner: Mondays to Saturdays
20 May 2005 @ 2:39 pm
looking to the northan star
Fuck! So much thing to say, so little space in my mind. Systematically, and I can do it. I'm at cyber cafe right now. It's now a minor trend for me to be here and spend or waste my time in a good way I presume. So it was all dull and snorbish yesterday. Didn't had much to do, just stairing at my half dead television and playing with my dog. The only good thing was that i had a great pasta lunch at Pasta Cafe. Paid a cost for a small portion, but it was worth the try. Only if it's halal, I can bring baby there for a go. Suppose to meet Mary today, but I doubt it's going to happen. She's all tied up with flag day till around 6pm and I don't expect myself to do nothing till then. But I'll be sure meeting Fad after this at athar and maybe go and take back my playstation. I miss it so much. So as i was making my way down here today, I saw Huilin, Peng Lek and Kenneth on the way home. And I also saw this. Actually it didn't occur to me until I cross the road. I saw the fake goth. So call naming himself christian goth. Whatever that means. That fucking cheebye mouth Nicholas. I saw him at first glance, but didn't thought it was him, until I cross the road to hougang plaza. Look how goth wears, light blue jeans. Fucking wannabe keling pariah christian. Christians nowadays, getting DUMBER every day. I really miss baby. We didn't talk ever since monday cause she had to go for some camping trip regarding her course. And I can only see her on Saturday. The BBQ is not going to happen cause I can't book any of the pit. It has all been booked. And it's a last minute thing, so we will both wait till we get a specific date for it. Maybe we'll just go watch a movie or something, I presume House Of Wax. Regarding the other BBQ, I'm really really pissed off with Ernie. But I don 't wanna show it and ruin our meet. I gave her the list to go and ask people if they want to come or not. But she only ask 2 people, and she gave the list over to Corey. I'm pissed because if she can't handle the job that she said she can, then she should return it to me. Not passing it to someone else to do HER job. Irresponsible behaviour yet again, and I'm really pissed. She also said she can DO IT. I didn't give her on grounds that she CAN'T DO IT. But she didn't. Giving me excuses that she forgot to bring the list or she ask some people only. Or in particular Jonathan. She told me that she's very close to him. Now you come telling me that he is always with the chinese. So what is what now? I really can't tolerate irresponsible and initiative-less behaviour, that pisses me off alot. So me and Fad will wait YET AGAIN. Till Sunday, thats what the deadline he told us anyway. We'll judge from then on. Now if that don't work, then i don't have got anything else to say. So we'll wait and see.

OK! FUCK! FUCK! FUCK! FUCK! I JUST FUCKING MISS THIS FUCKING CHANCE. A GUY JUST LEFT HIS HANDPHONE RIGHT FUCKING BESIDE ME, BUT I WAS SO FUCKING BLIND AND DIDN'T TOOK NOTICE OF IT. AND HE JUST CAME BACK, SMILING AT ME AND TOOK IT. AND IT'S HE LEFT AROUND 10MINUTES AGO. ARGH!!!!! -_-"