info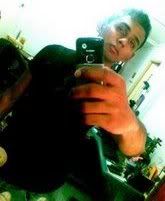 a twenty year-old soldier, deeping an escape fantasy into the wilderness of lifestyle, fashion, music, politics and the suffocation of everyday living. allow me to take my emotions and paint the world white.



facebook - friendster - myspace




LINKS
aaron.
erns.
jun.
rach.
zen.
zi chee
broth.
going om.


Andrea Crews
BryanBoy
Borderline
C.O.A.C.D
F.A.D
La Femme
Luis Avia Roma
Pink! is the New Blog
The Face Hunter
The Sartorialist
Ultra8201
Wardrobe Remix
WISHLIST
MACbook
new wallet
new phone
oni tigs



TRACK

Rihanna - Disturbia



TRAVEL
Bali
Cambodia
Koh Phi Phi


EATARY
BROTH just sliding off those sleezy bar by the junction. located above Duxton Hill, comes a very relax and romantic get away-like semi-fine dining heaven. Where modern Australian is a choice and service is at it's excellence.

Lunch : Mondays to Fridays Dinner: Mondays to Saturdays
25 May 2005 @ 3:30 pm
mayhem in babylon
Long holiday it was, almost spending 100% of my time with baby running here and there. So lets begin from saturday, where I meet baby at Chao Chu Kang. We were suppose to have our BBQ on that day, mind you.We were block-headed on deciding where are we suppose to go. Ended up at Causeway Point for a meal and was slacking away. It wasn't enjoying at all by the way until Sunday. We were in town, walking around and stuff. Baby bought a white polo T and I wanted to get a black T but they don't ahve my size. They always don't have my size. Baby got me a new earphone. It's phillips and costing us around $40. And she also bought the HMV puppy for me, I don't know why. We had dinner at BK and headed home. On Monday, I accompanied Faiz down to Hougang Mall to take a line. He got the phone I recommanded, Motorolla E398. The one thing that attarcted me was it's clear camera and it's mp3 function. Yesterday was all wasted, I didn't do anything much accept play my playstation. I'm quite glad too, that Harriet is coming back to my band and we're going to jam again. We indeed, have a great guitarist and a fixed minded keyboardist. We're just aiming high on the drummer, someone more flexible and creative/experienced than our past. So Piggery is up and going, now we get new materials.

I've been thinking well and intelligently on this for quite a long while and I decided on posting it today. It actually leads to the reason why I started blogging. It was a way, like a route on expressing my points and opinion. Sharing it made it easy in blogging. I blogged alot of stuff from day 1 and when I look at it; some make me feel stupid. Whereas, some make me think back again. In times of depression, you would'nt think on what that you're doing. We'll just do it, cause you feel how it might ease your tension and melancholy. You do it, cause at that point of time, it is the best possible solution for you. But when someone else's eye looks at it, they think you're stupid. They consider you crazy or they criticise you. They know no shit about this until they have to experience it. They only know how to talk and speak and criticise but they don't understand the back of the scenerio. Like wise because in times of desperation, it will lead you to anything. And anything willnever have that fullstop. I've been to this, and out of it. And when I look at all of my decision on suicidal temptations and my ways to reach out to that person, I don't feel sorry at all. I don't regreat it at all. But certainly, I felt sorry for myself on going through it. I felt foolish being over-powered by someone else's selfishness. And I felt being the laughing stalk to that person. You can kill away the moment, but you certainly can't kill the memories. The dark ones that is. I still hold back, and I'm still doing it from within.

OK! I got to go now. Going to meet Fad at Athar. I don't wanna make him wait for hours, don't I?