info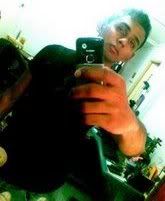 a twenty year-old soldier, deeping an escape fantasy into the wilderness of lifestyle, fashion, music, politics and the suffocation of everyday living. allow me to take my emotions and paint the world white.



facebook - friendster - myspace




LINKS
aaron.
erns.
jun.
rach.
zen.
zi chee
broth.
going om.


Andrea Crews
BryanBoy
Borderline
C.O.A.C.D
F.A.D
La Femme
Luis Avia Roma
Pink! is the New Blog
The Face Hunter
The Sartorialist
Ultra8201
Wardrobe Remix
WISHLIST
MACbook
new wallet
new phone
oni tigs



TRACK

Rihanna - Disturbia



TRAVEL
Bali
Cambodia
Koh Phi Phi


EATARY
BROTH just sliding off those sleezy bar by the junction. located above Duxton Hill, comes a very relax and romantic get away-like semi-fine dining heaven. Where modern Australian is a choice and service is at it's excellence.

Lunch : Mondays to Fridays Dinner: Mondays to Saturdays
16 May 2005 @ 4:57 pm
things still falling apart.
Fuck! Firstly I hacked into the library computer earlier to use the internet to tag my blog. In the end, the grace period ended and everything shut down. So I got to type my blog once again. So as I was saying, what a boring day it is. Meet up with fad to athar where we slack ourself with drinks. And then we headed down to POSB autolob in Srgn Gdns as I need to do few transactions. Had my lunch at the nearby coffeeshop and was gazing through the panoramic view of my once school. And of course, saw some assholes too. We got bored yet again, and went to 147 coffee shop to slack again. Caught up with Peng Lek, Edwin, Jian Hao and Kenneth. And it was seriously so dull, that we both decided to take a walk down the private estates. In there, we did alot of stupid things again. Firstly it was all the "Mau Ngian Tots" and disturb all of them until they turn back. There was one of them who spread her legs damn fucking wide and was cutting grass. It was so tempting that I stop and look at her until she close her legs. That was so fucking funny. And then now we're here in the cyber cafe at Hougang Plaza after having all this nonsense.

I'm seriously very tired on the way things are now. You promise us the end of your midyear but we waited in vain. So everythings seems to be so abandoning and losing its ways like how it use to. All ending up in despair and hatred. So I still can't find in what or how that you are making the problem, a solve. I still can't see it at all. Maybe another month will do the magic? I doubt so. By that time, I think we both don't want to look back on you anymore.