info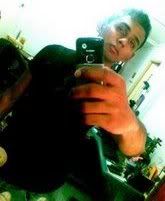 a twenty year-old soldier, deeping an escape fantasy into the wilderness of lifestyle, fashion, music, politics and the suffocation of everyday living. allow me to take my emotions and paint the world white.



facebook - friendster - myspace




LINKS
aaron.
erns.
jun.
rach.
zen.
zi chee
broth.
going om.


Andrea Crews
BryanBoy
Borderline
C.O.A.C.D
F.A.D
La Femme
Luis Avia Roma
Pink! is the New Blog
The Face Hunter
The Sartorialist
Ultra8201
Wardrobe Remix
WISHLIST
MACbook
new wallet
new phone
oni tigs



TRACK

Rihanna - Disturbia



TRAVEL
Bali
Cambodia
Koh Phi Phi


EATARY
BROTH just sliding off those sleezy bar by the junction. located above Duxton Hill, comes a very relax and romantic get away-like semi-fine dining heaven. Where modern Australian is a choice and service is at it's excellence.

Lunch : Mondays to Fridays Dinner: Mondays to Saturdays
10 May 2005 @ 11:58 am
waiting for exams to end
Right now in self excess room. Didn't had the chance of updating my blog just now during Personal & Inter-personal skills lessons as i was editing mary's blog and having her to host my new LACRIMOSA blog skin. I did it all by myself, how proud? If anyone need information on them or want to view it, please just click on the below link to excess to you. As long as credit is provided, I'll allow you to use it.

www.cowwette.blogspot.com

Yesterday after school, I and Fad went down to Athar to slack again. Miraclly, I somehow completed half of my project sketches which i was unable to do so for the past 3weeks. Laziness was the reason though It's a lame one. After all, I did it perfect this time and have to regreats on them too. Both of us were discussing on current situation and somhow found the key to alot of unopen doors. Lights are flared and now, we can somehow understand something deeper. Something more like, the hidden hypocritical truth thats gold to retrieve. Situation is tensed between the three of us, yes. Certainly we do understand. Even thought comments had been exchanged or posted or either acknoledged by someone else between all three of us, I strongly believe that WE will be WE. In simple, I don't think I and Fad would want to let Corey go as our 3 bestfriendship, and I'm very cetrain that Corey will not want to fade from our presence. We're link bond of eternity. Ever since 2003, the theory always spells fun as only 3 of us. More like a chaos industry together. The macular have been made, and I don't wanna find pettiness to jeperdise this.

Previously mentioned on the hidden key, we found some mind games being played and we discovered this just yesterday. For whomever this would be, your motive to break all three of us will come to no avail. You're just wasting your time looking to mock us in the future. I won't make us the laughting stock, and will never will. I also like to highlight, that if 3 of us are involve in this, let it settle this way. Maybe Ernie or Ain, but not anyone else. I don't find irrelavent comments necessary for us. We know how to settle this, I don't need the 4th party(since it's Me, Fad and Corey) to get a pinch in our problem.