info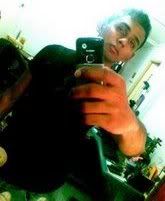 a twenty year-old soldier, deeping an escape fantasy into the wilderness of lifestyle, fashion, music, politics and the suffocation of everyday living. allow me to take my emotions and paint the world white.



facebook - friendster - myspace




LINKS
aaron.
erns.
jun.
rach.
zen.
zi chee
broth.
going om.


Andrea Crews
BryanBoy
Borderline
C.O.A.C.D
F.A.D
La Femme
Luis Avia Roma
Pink! is the New Blog
The Face Hunter
The Sartorialist
Ultra8201
Wardrobe Remix
WISHLIST
MACbook
new wallet
new phone
oni tigs



TRACK

Rihanna - Disturbia



TRAVEL
Bali
Cambodia
Koh Phi Phi


EATARY
BROTH just sliding off those sleezy bar by the junction. located above Duxton Hill, comes a very relax and romantic get away-like semi-fine dining heaven. Where modern Australian is a choice and service is at it's excellence.

Lunch : Mondays to Fridays Dinner: Mondays to Saturdays
3 May 2005 @ 10:04 am
We shall bite the hand that feeds
Tuck in yourself into this, it's going to be a long post this time. Hadn't had the oppertunity to post cause I don't have an internet service anywhere near me while I was on break for the past 3 days. It was that friday night where Fad and Me meet Ain to slack. It was really fun, having been a long while since we meet Ain. We had a short dinner at Athar and was catching up with days missed been done. She's also not working anymore and she is schedule to join ITE Bishan for school this june. I'm eagerly excited on how much fun we end up getting. Three of us yet again.

Saturday was great too, accompanying me to gym was Fad. Both of us yet again and maybe for a long while for now. I manage to do the back exercise which I couldn't. And what that I can do, I can't now. So confusing, but it was challenging. After gym and then on, I had servere cramps on my arms and chest. I see the meaning to it. After gym, I meet up with Mary. We meet up at Bishan, and then to town. We checked out the sketchbooks we both planned on getting and was just woundering aimlessly around town. Decided to get down to Heeren after that and I was browsing through

Nine Inch Nails' With Teeth album

. It was excellent as promise by Trent Reznor. It is certainly their hardest album to date. And their debut single is really astounding and melodic at the same time. I'm planning on covering that too. Mary and I plan on getting her maid to sew for us clothes as we design them and all. I've got some designs up my sleeves and I'm planning on sticking with them. But all i need now is that perfect pants with that perfect material. Was also discussing with Mary how much I wanna have a goth shop in Singapore selling various types of Goth/Metal/Punk merchandise. I learned on how laggy shops in Singapore are selling stuffs like that. Either they don't have it or they don't know what that they are selling. Or most commonly, they are very expensive. Meet baby after hanging out with Mary; had dinner at a place I practically forgot and went to catch a movie at West Mall. We caught Creep, which was my desire and not baby's. The movie was a thrill, not horror. It's like a trend for upcoming horror/thriller movies. I slept over at baby's place and was watching movies again. This time it was funny/dumb/lame Spongebob and kinky White Chicks.

Sunday morning and afternoon ended up at home the whole time. So I manage to get some cash from granny and Me and baby went down to Athar together. I introduced the whole place around and manage to pick and tell where I hang out and where/what I would do always. The place was good and the air was fresh, we walked our ways around hougang/serangoon and was talking all the way.

The next day, we manage to get some cash and we headed down to Bugis. I wanted to check out the shop I once left exploring halfway down the road. This shop is extravagentic. They have stuff I really really wanna get. Firstly, the Marilyn Manson action figurines and wind ups. I wanna get all 3 of them, costing atleast $170 in total. Bugis was boring, really. So as bugis street. I saw some shirts of HIM and Manson. All of them were ugly, especially the fonts. Either the picture or the fonts are screwed. They don't have something really perfect for me. I saw 3 things again I wanna get. 1 is Jack Daniels' PVC leather pants and a PVC leather jacket to accompany it. The pants is at $60 and the jacket is at $50. And they also sell the straight cut firm material black pants I really wanted to get. Was looking for it for ages and I finally found it. That is around $30. But I can't, cause I'm really broke. This whole week, we both spent alot. I'm left with around $9 for the whole fucking week and it totally sucks. My desire list is piling up and there is no stroke for it at all. Just hoping for the end of the week where both of our pays get banked in and we can spend it meaningfully.

Here comes spending list on the way. I'm, planning on how we can both group our money and spend it meaningfully and wholeheartedly without regreating in anyways. Movies will be around our sleeves, and so as that BBQ we're planning on. Trying to budgest in all ways that we can. And to do so, I really need to dig into the cheapest things at a specific place. I'll be doing shopping all alone, and so as preparing the stuff and all. I think I will be doing up a shopping list for this and will be shopping at Shieng Siong or how ever it's spelt. They sell cheap stuff there, like the other time Me and Ain spent only around $80 for a class BBQ.

Before I forget this, baby's birthday is on this sunday. We can't really spend time that much but I have some plans up and going. I plan on getting baby's favourite black forest cake and maybe make a card. And spend time till late and maybe overnight or something. It's a waste our pays would bank in late cause i was planning on having the BBQ with the birthday together. It would be memoreable, but I think maybe not. Next week would be the BBQ and so as exams. Ok! Lets not talk abotu exams.