info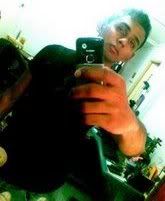 a twenty year-old soldier, deeping an escape fantasy into the wilderness of lifestyle, fashion, music, politics and the suffocation of everyday living. allow me to take my emotions and paint the world white.



facebook - friendster - myspace




LINKS
aaron.
erns.
jun.
rach.
zen.
zi chee
broth.
going om.


Andrea Crews
BryanBoy
Borderline
C.O.A.C.D
F.A.D
La Femme
Luis Avia Roma
Pink! is the New Blog
The Face Hunter
The Sartorialist
Ultra8201
Wardrobe Remix
WISHLIST
MACbook
new wallet
new phone
oni tigs



TRACK

Rihanna - Disturbia



TRAVEL
Bali
Cambodia
Koh Phi Phi


EATARY
BROTH just sliding off those sleezy bar by the junction. located above Duxton Hill, comes a very relax and romantic get away-like semi-fine dining heaven. Where modern Australian is a choice and service is at it's excellence.

Lunch : Mondays to Fridays Dinner: Mondays to Saturdays
23 June 2005 @ 11:20 am
everyday isn't so your everyday
Read the newpaper lately, and they were blabbing about blogging. It seem to be an overhyped among Singaporeans. But whats the big fuss about blogging anyway. In blog, it's main ozford standard meaning is an online diary which your friends or community are able to read. That means, blogging is just simply like an unprivatised diary where everyone in any part of the world is able to view and read it. Why make blogging a big fuss, since a blog is belong to whomever it does belong to. It does not matter whereas she or he puts up nude pictures of themself or they criticise something or someone or just mere ranting about their everyday. Cause the blogger has his or her right to put about what he or she feels like. If the owner of the blog doesn't want anyone to read his/her blog, then come up with certain html code where you only allow ceratin viewers; or simple juust don't fucking give out your address like it's flyers. It don't make sense how singaporeans (or maybe her newspapers) spoonfeed the situation bigger.

When I got my blog first running, almost everyone loves my title header. They think it's quite catchy and it's like a phrase that suits the paragraph. I was only blogging about my depression and how things are changing about in me and my encompassing. But soon after, things begin changing. Now I'm blogging about things either I can't speak to the person and want him/her to know or I'm creating controversy that sparks up tension among certain group of people or an individual. So if I really don't want anyone to know my blog or read it, I simple change the link or twist the way I potray the message so he/she don't know I'm talking about him/her. It's that simple Singaporeans, learn from it.

So now I'm back in school, what a bummer. I can't even get up for school, I'm that lazy. Tomorrow I'm working opening shift and I'm going to die. I got to wake up atleast 5:30am and dash off to work. I'll be working till 2:30pm if I'm not wrong. Now the only thing I feel is stupid is having Ain as my schoolmate. I don;t even get to see her at all. Try giving her a call, it would either end up in no answer or operator service. Now thats very irritating. Me and Fad plan on watching 'War of the Worlds' with Saleh, Hakim, Davin, Ernie, Ain & Rach. I hope all of them can make it, esp. Ernie. Now I'm also quite in a stucked up situation with cash. Firstly, I need to foke out $102/- for the Slipknot concert. And then I got to pay my Handphone bill too. So I'm somehow going to squeeze here and there and bring out that cash for all of this. I'm only afarid that my pathetic line get cut again. My fucking bill for this coming month is going to be so expensive, I swear. Thanks to the BBQ, I got to sms/call and so on. Ernie Is also coming up with her birthday BBQ party and she wants me to help her with it. I think I'm just going to come up with something very simple but grand. I'm not planning on tonning, thats for sure. Later I really hope Fad calls me or something, so that we can slack. We didn't yesterday cause he had to go play soccer or something.

I was talking to baby yesterday about the same problem and she advise me on being full bodies about my decision and now look back at it after it's done. She wants me to be firm, and firm in a way that I feel happy with. So I better make my last statement and quit blabbing about what I feel. Touch my heart and it says that both Me and Fad wants you back. But we can't seem to accept your attitude towards us. And for sure, I can't accept the change since you have your new group of friends. Now there is a constriction there and I don't know how but It's gotta get fixed or worked out. Or things is just going to grow bigger and it might just develop into hate and criticism. I don't know whats on your mind, cause it wasn't poured out in anyway before this. I onlt hear stuff from people who are somehow link to this and thats about it. To set the record straight, I just want back the old you and if you think you don't need us. Just say it on my face or type it in my tagboard, sms me or just say it to someone to tell it to us. So we will know what that lingers in your brain.