info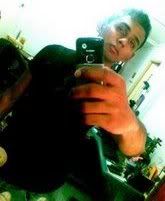 a twenty year-old soldier, deeping an escape fantasy into the wilderness of lifestyle, fashion, music, politics and the suffocation of everyday living. allow me to take my emotions and paint the world white.



facebook - friendster - myspace




LINKS
aaron.
erns.
jun.
rach.
zen.
zi chee
broth.
going om.


Andrea Crews
BryanBoy
Borderline
C.O.A.C.D
F.A.D
La Femme
Luis Avia Roma
Pink! is the New Blog
The Face Hunter
The Sartorialist
Ultra8201
Wardrobe Remix
WISHLIST
MACbook
new wallet
new phone
oni tigs



TRACK

Rihanna - Disturbia



TRAVEL
Bali
Cambodia
Koh Phi Phi


EATARY
BROTH just sliding off those sleezy bar by the junction. located above Duxton Hill, comes a very relax and romantic get away-like semi-fine dining heaven. Where modern Australian is a choice and service is at it's excellence.

Lunch : Mondays to Fridays Dinner: Mondays to Saturdays
13 June 2005 @ 6:02 pm
the Lamb of God
it's been such a long while since blogging happen cause I didn't had that time and money to do so and now I'm here. I've got so much things to say but I just can't think of how the order it should be in. BBQ things are going on smooth right now. I'm happy that it is in this way, it's all blossoming greatly. I got a whole list of fresh menu inline for this. Me and fad are both working hand in hand to make this a spectacular sucess. I just can't wait for this coming saturday for it.

Another side has been caging me tensionly. Actually there is two. I'm in the mist of losing one and gaining one. And in this edge, I just can't stop to think it right on which to do and which not to. On which is right and which is wrong. It's sincerely very confusing. I've gotten closer with Zi Chee this time, and we begin to share alot of things. We were both good friends ever since 2003, well communicated with each other about days of despair and joy. In either section, I understand what that she is going through and I can see the faith of her cause it isn't much of a difference on my part. She actually manage to convince me over my decision, but the one that she is helping for isn't helping himself. So why should I even bother to make it a happy ending. If you think you're egostic and stubborn, I'm more the hardheaded than you are. Someone is helping you, and you should treasure it instead of showing your black side. When you yourself are in the wrong. I don't really care if people think that I am wrong because I know myself where I stand in this. And me and fad have got no regreats at all, since this is what he wanted. My other side got to pause, I don't wanna look at it at all. I don't wish to make it a short fantasy because I still remember the words to your movie. I can't get over it and i'm not making any effort either. I know I'm indecisive but i just can't be form. I'm not inteding on replacing anyone with anyone like what my companions want. Instead, i'll just remain like this is, and enjoy every day it is. I'm happy of this way, with fad by my side. We don't regreat each other and we don't either on what that we left.

Thanks to hosay, now I got fresh hot vengeful news that SLIPKNOT is coming to Singapore. This is a fucking once in a life time oppertunity to see one of the rising metal bands. It's gonna be a mega bombastic show and I'm sure I'm going to save up for this fucking show.