info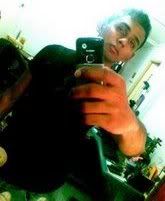 a twenty year-old soldier, deeping an escape fantasy into the wilderness of lifestyle, fashion, music, politics and the suffocation of everyday living. allow me to take my emotions and paint the world white.



facebook - friendster - myspace




LINKS
aaron.
erns.
jun.
rach.
zen.
zi chee
broth.
going om.


Andrea Crews
BryanBoy
Borderline
C.O.A.C.D
F.A.D
La Femme
Luis Avia Roma
Pink! is the New Blog
The Face Hunter
The Sartorialist
Ultra8201
Wardrobe Remix
WISHLIST
MACbook
new wallet
new phone
oni tigs



TRACK

Rihanna - Disturbia



TRAVEL
Bali
Cambodia
Koh Phi Phi


EATARY
BROTH just sliding off those sleezy bar by the junction. located above Duxton Hill, comes a very relax and romantic get away-like semi-fine dining heaven. Where modern Australian is a choice and service is at it's excellence.

Lunch : Mondays to Fridays Dinner: Mondays to Saturdays
21 June 2005 @ 1:14 pm
the line begins to blur.
The BBQ is finally over. I really pu so much of effort into this and it really paid off. The food was excellent, and the fire was burning splinters greatly. Both the chinese and indian style marinated chicken wings were flowing out like waters. The so-called finger food was rushing out in stock before dawn. And $2.20 worth of sausages are still in Wee Ying's stomach, 1 tumbler of rose syrup was spilled over by Davin and my virgin olive oil was spilled over my pit by kenneth. The rest went great and everyone had their good times. I had mine when Me, Fad, Saleh, Hakim and Davin went walking at fisherman's village and played playground. We spinned wheels like no body's business and threw sand on each other like it was snow.

I faced problems in the pit too. It's none other then that Corey problem. I thought it will all be solved, but it didn't. Instead now it's growing and it's growing to be very wrong. Firstly when at the pit, things were smoothing. And then an incident happen and now I'm getting more furious. Both of them vaniseh into no where. My effort injcted to this was for togetherness and notign else more or else than it is to be. But both of you decided to move away and I don't feel my effort respected by it. And then again; when leaving, Corey had to stand meters away from the pit like as if he was the 3rd party. Why? Why react in this way? This makes both me and fad very pissed off with you. And then Zi Chee and I had an sms session which I thought it showd of her blind support on her boyfriend. She's saying that I can't compare him with some other people. That he is different and so on. But let me ask you a question. If I can't compare him with them, then can I compare their initiative and their willingness to that of his? So who is in the receiving and decreasing side of this line? It shows clearly right? Anyway, I insist that you should not involve in this problem anymore. Everytime you do, you face shit from your boyfriend. Which I think it's irrelavent because of me. But I'm still sticking to my 2nd chance I've given and the last. Me and Fad decided on seeing what that you're going to tell us and how long does it take for that to happen. And from then on, I will know what to do. But one thing is for sure, nothing and I really mean nothing is going to make this same again. Because your priority is on edwin and that of ours has faded. I can somehow see the future of us that it's going to be difficult and it's all because of you. Nothing is going to be the same anymore, nothing more for the future.