info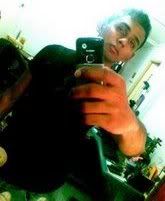 a twenty year-old soldier, deeping an escape fantasy into the wilderness of lifestyle, fashion, music, politics and the suffocation of everyday living. allow me to take my emotions and paint the world white.



facebook - friendster - myspace




LINKS
aaron.
erns.
jun.
rach.
zen.
zi chee
broth.
going om.


Andrea Crews
BryanBoy
Borderline
C.O.A.C.D
F.A.D
La Femme
Luis Avia Roma
Pink! is the New Blog
The Face Hunter
The Sartorialist
Ultra8201
Wardrobe Remix
WISHLIST
MACbook
new wallet
new phone
oni tigs



TRACK

Rihanna - Disturbia



TRAVEL
Bali
Cambodia
Koh Phi Phi


EATARY
BROTH just sliding off those sleezy bar by the junction. located above Duxton Hill, comes a very relax and romantic get away-like semi-fine dining heaven. Where modern Australian is a choice and service is at it's excellence.

Lunch : Mondays to Fridays Dinner: Mondays to Saturdays
29 June 2005 @ 11:19 am
Quizes
Today I decided to take up two quizes on Quizilla. Some of which will have a picture attached to it. Take your time to gaze at it.

If You Were In Marilyn Manson Who Would You Be?

You are Ginger Fish. You play drums, you're the quietest member of the band and nobody really knows much about you. You have been described as "the quietest and most dangerous member" Which you are.

Which Nine Inch Nails album are you?"

You are The Downward Spiral. Intelligent, sensitive, and introverted, you are probably driven into depression out of your higher understanding of the depravity of society, or the deep emotional scars that you have buried inside. You may also be prone to outbursts of rage, and/or suicidal tendencies. Open yourself up to the world, and try to see its rare beauty, or you will slowly drift into madness.

School just ended, and I'll be going over to granny's house to fix her a fish tank. That's her desire currently. Tomorrow I'll be going down to work place, cause there is store meeting. And then maybe slacking with Ernie, Fad & ?