info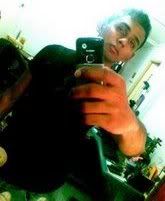 a twenty year-old soldier, deeping an escape fantasy into the wilderness of lifestyle, fashion, music, politics and the suffocation of everyday living. allow me to take my emotions and paint the world white.



facebook - friendster - myspace




LINKS
aaron.
erns.
jun.
rach.
zen.
zi chee
broth.
going om.


Andrea Crews
BryanBoy
Borderline
C.O.A.C.D
F.A.D
La Femme
Luis Avia Roma
Pink! is the New Blog
The Face Hunter
The Sartorialist
Ultra8201
Wardrobe Remix
WISHLIST
MACbook
new wallet
new phone
oni tigs



TRACK

Rihanna - Disturbia



TRAVEL
Bali
Cambodia
Koh Phi Phi


EATARY
BROTH just sliding off those sleezy bar by the junction. located above Duxton Hill, comes a very relax and romantic get away-like semi-fine dining heaven. Where modern Australian is a choice and service is at it's excellence.

Lunch : Mondays to Fridays Dinner: Mondays to Saturdays
27 June 2005 @ 9:06 am
you should start looking at it in vain
Just entered school, when it starts at around 8am. How disicipline am I? Never really expected this, but Fad is actually with me right now. He chabot from work, cause his tired. Now I got to act as his father and call his manager. Now, why always that I have to act as someone's father or teacher or something like that. I was Mr Kumar in Ernie's problem, use to be Mr Dennis for Davin and now Rahmat for his working place. And as far as school comes to the topic, it seems to be a trend. Last week, I only attended school on Tuesday and Thursday. And the rest of the days, I'm somewhere else. And my first warning letter had already made it's way down to my letter box.

Friday I was working, and it didn't seem so usual until this new manager. He seems to be weird and nice at the same time. And I can't seem to get that blend right.After work, I was suppose to meet Faiz. But that ass's phone wasn't switched on. And this most funniest event happen, that when I think back at it. I can laugh so much till I drop. Faiz contacted me atlast, around 10pm. And by that time, I've already slept so soundly. I can't seem to hear my phone ringing. So he was waiting for me at Yishun MRT from 10pm to around 2am. It's not like he doesn't know the way to my house alright? So this asshole, finally decided to make his way to my house. And then he did this; he didn't enter my house the easier way like EVERYONE seem to do it. He climbed into my room using the nearby piping system and balance his way into my window. He woke me up, and he told me that he just climbed into my house but I didn't believe him. And when I look at my phone, I had just been bombed with 69 Missed Calls. Now thats blooper of the day.

So Ernie's BBQ is coming up, and I've fixed her list. It suits the amount of people turning up and the duration of the BBQ. From my prediction things wouls just go good on the food and drinks. I'm so freaking bored right now, slacking in self-excess room but class is going on too. I'm getting quite irritated about the Slipknot concert thing cause one side of me says go and the other says no. And of cause each side does base on it's plus points and minus. I just hope I can squeeze the cash from here and there and come with a proper schedule with things. I just wish for once I don't have to get in this kinda situation repeatly, over and over again. Since Fad is out of work for the day, we'd probably would just meet up with Ernie before she leaves for tuition.