info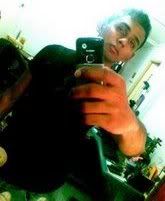 a twenty year-old soldier, deeping an escape fantasy into the wilderness of lifestyle, fashion, music, politics and the suffocation of everyday living. allow me to take my emotions and paint the world white.



facebook - friendster - myspace




LINKS
aaron.
erns.
jun.
rach.
zen.
zi chee
broth.
going om.


Andrea Crews
BryanBoy
Borderline
C.O.A.C.D
F.A.D
La Femme
Luis Avia Roma
Pink! is the New Blog
The Face Hunter
The Sartorialist
Ultra8201
Wardrobe Remix
WISHLIST
MACbook
new wallet
new phone
oni tigs



TRACK

Rihanna - Disturbia



TRAVEL
Bali
Cambodia
Koh Phi Phi


EATARY
BROTH just sliding off those sleezy bar by the junction. located above Duxton Hill, comes a very relax and romantic get away-like semi-fine dining heaven. Where modern Australian is a choice and service is at it's excellence.

Lunch : Mondays to Fridays Dinner: Mondays to Saturdays
21 July 2005 @ 4:06 pm
can you ever see?
ENTIRELY shaken by work for the past 2 days, including this one. Bouncing up and downs are my complexions of angst and I'm gonna blow very very up so soon. Yesterday was my WORST fucking day at work. First, the POS broke down and we got to cash everything manually and when It was back up, I was suppose to do some recovery thingy which screwed myself with a report. It didn't harm much but what that pissed on more was sharm. In the morning, the pasrtires came in late and I had to display them. I was afraid of my hands touching them so I was slow YET careful but that mother fucker shouted at me infront of a customer. I was HOT PISSED but calm, cause his a manager. And for the rest of the hours I flopped everything from making drinks, cashing out, cleaning, etc. I felt isolated too cause I'm the ONLY Indian there. They (4 partners) were talking among themselves and I was left alone to add on to more of it.

Today was QUITE an improvement but I'm still not satisfied with Sharm commenting on me that I have not been washing the milk pitches and just leaving it there for others to wash it. It's funny the way I had to do ALL of THEIR work and just for milk pitches; that I left it to the sink for space to do my work, I got scolded. I felt to tell off, but I holded back. But I did, to Bob "THE BAPOK". First he told me not to use the hot water supply from the lamazzoco and I said ok. And he STILL have to tell me not to use that espresso shot cause it was bad. So when he told me that, I shouted at him infront of the customer that "I know" and he shutted up for good. I hate being push around and feeling individualised cause I'm the only Indian. The only 2 souls that helped me cope with all these was Rashidah and Nana and I really thank them for spicing up a better day at work for me. Tomorrow I won't be meeting Sharm, which is a fucking blessing. I don't have to get moody at all.

So anyway I'm doing good for the rest. I bought a new slipper which was long promised. I didn't get TEVA anyway, but another brand. The slipper is comfortable and flexible to walk with and I'm please with it. Will be buying a new black pants later, and maybe a long sleeve turtle neck kinda thingy later. CAN'T wait to meet baby tomorrow. It's been hard without baby by my side. I think I've also somewart decided on getting E398 too. Long dangling indecisive decision; BUT, it's ok lah!