info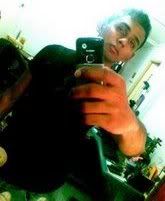 a twenty year-old soldier, deeping an escape fantasy into the wilderness of lifestyle, fashion, music, politics and the suffocation of everyday living. allow me to take my emotions and paint the world white.



facebook - friendster - myspace




LINKS
aaron.
erns.
jun.
rach.
zen.
zi chee
broth.
going om.


Andrea Crews
BryanBoy
Borderline
C.O.A.C.D
F.A.D
La Femme
Luis Avia Roma
Pink! is the New Blog
The Face Hunter
The Sartorialist
Ultra8201
Wardrobe Remix
WISHLIST
MACbook
new wallet
new phone
oni tigs



TRACK

Rihanna - Disturbia



TRAVEL
Bali
Cambodia
Koh Phi Phi


EATARY
BROTH just sliding off those sleezy bar by the junction. located above Duxton Hill, comes a very relax and romantic get away-like semi-fine dining heaven. Where modern Australian is a choice and service is at it's excellence.

Lunch : Mondays to Fridays Dinner: Mondays to Saturdays
13 July 2005 @ 9:22 am
the fragile ending
Returning from a duration not long, but for awhile. Missed blogging quite a bit, but I was busy with work and other stuff. Had been working on Monday and Tuesday and so will be on coming Thursday and Friday. I'm in school today, and tracking back on all that that I've missed. My eyes are getting so painful. Ive not submitted even one assignment and my attendance just drop to below 80%. Mdm Fairouz arranged me for some make up lessons where it will just come in handy for me I believe. I have to really catch up with things. Looking back at everything, even baby's nagging. I feel that it's quite right, but I also need cash and working is the ONLY way for that. I need to start paying my Handphone bill which IS a cheat in some part where I got to ammend. I wanna get a new wallet and a discman pouch too. My current ones are all torn and faded in it's colour content. I might be buying the wallet from TOPMAN and my discman pouch from ProjectShopBLOODbros. Baybeats are arounding itself soon, and I'll be there for the Saturday one. Going for Lunarin's opening session with Mary.

Things happened on Friday. Facing the good and the bad and the depature. Firstly I had fun at Athar slacking. And then I came face to face with broken hopes. And then now I get an explaination for it. I might have though of it wrongly, but I still don't wanna change my deal with myself. I've dealed that I wanna go missing to all of them including Fad. No slacking. No hanging-out. No outing. No chit-chatting. No meeting. I'm really sick and tired of this bullshit frindship thing and it drives me so crazy that I have to do this. I've even changed my blog address cause I don't want anyone navigating into it or posting in my tag. I just wanna get all away from this shit. Everything I make, it breaks. And It's hope breaking to see this happening. The only thing I need now is Baby and the support that is constantly coming. Cause I just don't know what to do or what I should. Getting away from all of this is like running away. But looking at this, is to teach lessons that have not been taught. One would be Ernie, for her words that she has been giving me. The way she smses to me were just supporting him on his act. I don't get it why, even it happened last year. I just had enough of it, and thats why I'm ignoring all her calls and smses. For me, if you THINK his right, then be with him rather than me. I won't be needing you in that case and I don't mind being replaced. Second would be Corey for messing up my day with what that I saw. Even though the incident that you claim was OR could be accidential or not, I really don't give a fuck anymore. I feel like I should have given up everything the last time I said i wanted to. And not looking back at it for Zi Chee's sake. Well, anyway, I don't really matter how I feel now.

Whats really bothering me is Faiz's cash. He told someone to help him draw $30 on the 12th, but when I updated his passbook which he told me to do so. There were 2 withdrawals of which one is $50 and another $30. And it can't be Faiz who drew it, cause his in camp. The only capability would be that guy who drew extra for personal use. Now wonder if it's going to be returned to him or Faiz is going to give chance and entertain this. I wish he calls now, so that I can inform him on what that I saw. If it's too difficult to get the money, then I suggest maybe a police report would help.

I'm also checking out few bands from the goth underground scene. Octavia, Macbeth, Interlock, Mourning Beloveth and Mandrake.