info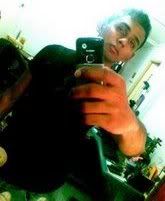 a twenty year-old soldier, deeping an escape fantasy into the wilderness of lifestyle, fashion, music, politics and the suffocation of everyday living. allow me to take my emotions and paint the world white.



facebook - friendster - myspace




LINKS
aaron.
erns.
jun.
rach.
zen.
zi chee
broth.
going om.


Andrea Crews
BryanBoy
Borderline
C.O.A.C.D
F.A.D
La Femme
Luis Avia Roma
Pink! is the New Blog
The Face Hunter
The Sartorialist
Ultra8201
Wardrobe Remix
WISHLIST
MACbook
new wallet
new phone
oni tigs



TRACK

Rihanna - Disturbia



TRAVEL
Bali
Cambodia
Koh Phi Phi


EATARY
BROTH just sliding off those sleezy bar by the junction. located above Duxton Hill, comes a very relax and romantic get away-like semi-fine dining heaven. Where modern Australian is a choice and service is at it's excellence.

Lunch : Mondays to Fridays Dinner: Mondays to Saturdays
4 July 2005 @ 8:42 am
in the shadow of my valley of death
Today is the day. this day that I've been waiting all year to come. And it's finally here. To me, this is a THE day to remember. This started everything and so did it ended. This is the actual date I started blogging too. Quite alot of people know, but most don't. But I remember everything. I remember the world the spill over and the reaction that was showed. I still remember how it hurts and I'm feeling for it till this date. I'm still able to taste my fear over my tears. Nothing can change it, and nothing is coming in contact to help get away with it. I still conceive the deepest darkest memories at the south side of my head that reminds me of every of your reaction towards me. I can still illustrate the madness I went through and cluster the pain right under my bladder. It hates to know it happened, and it's worst coming from a "proclaim" bestfriend. Nothing will every erase them away from me, but I just grow wiser out from it. If I could, I would just pull my knucles down, but I'm securly nailed. A crucifixtion of emotions and of depression. You should feel quilty for what that you did. I wish it never would have happened, and I never would have felt happier each time you fall. Saddisness isn't it? But how can I react normally after all that I've pulled through.

Some people did manage to influence me and help me out by adopting me up in their life as close friends and I would like to take that oppertunity to thank them so. I'd like to thank Ernie, Rach. & Huilin for being there for me and hearing me brag about how I felt even though I know you ain't that interested at times. Even that, I manage to get constant support from every one of you. I'd also like to thank Saleh, Hakim & Davin who was there for me when i was stranded all alone. They picked me up and showed me that friends do still exist and I really appreciate them for hanging on to me. Each moment spent with them last year was totally awesome.

Yesterday was great, we had fun the whole afternoon playing nearby Ernie's house. We played "home-rules" crocodile and threw leaves at each other, ending up in a vandalised mess. I walked Zi Chee home after that and she wanted me to help her with the blog. Now I've got 2 blogs to renew on my list. One is Saleh, and the other is Zi Chee. Got to start working on them as soon as I can get my creativity working. Planning on going down town later. Will be buying for baby and Faiz both Flesh Imp Ts. Faiz would be for his belated birthday and baby for our 6th month anniversary. Before I forget, Fad and I are coming about on making RESIDENT EVIL T-shirt. Few pictures of it are listed below, take your time to view it. Hope others can join us with the Ts making.