info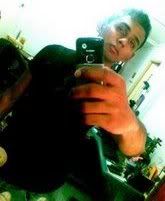 a twenty year-old soldier, deeping an escape fantasy into the wilderness of lifestyle, fashion, music, politics and the suffocation of everyday living. allow me to take my emotions and paint the world white.



facebook - friendster - myspace




LINKS
aaron.
erns.
jun.
rach.
zen.
zi chee
broth.
going om.


Andrea Crews
BryanBoy
Borderline
C.O.A.C.D
F.A.D
La Femme
Luis Avia Roma
Pink! is the New Blog
The Face Hunter
The Sartorialist
Ultra8201
Wardrobe Remix
WISHLIST
MACbook
new wallet
new phone
oni tigs



TRACK

Rihanna - Disturbia



TRAVEL
Bali
Cambodia
Koh Phi Phi


EATARY
BROTH just sliding off those sleezy bar by the junction. located above Duxton Hill, comes a very relax and romantic get away-like semi-fine dining heaven. Where modern Australian is a choice and service is at it's excellence.

Lunch : Mondays to Fridays Dinner: Mondays to Saturdays
14 July 2005 @ 3:03 pm
it all begins to burn to ash to dust.
I'm back from work, but I'm not at home. I'm at school right now. Paying up for all the lessons I missed and the assignments I've left dangling. And I got to do this till It's satisfactory So I won't get expelled or debared or something. Yesterday after school, I went to meet fad to get back my POSB card. Which then, miraclly I gave in and decided to slack at athar. At those time too, I was messaging Ernie. Which wasn't anything I've been doing. I raged my entire thoughts and feelings to her and she was suppressed by it. But I can't help it even though I know I was sorry for saying/doing what i did. But I have got no other choice but to run away. Run far far away from all of this problem. Which makes me so weak on the inside and pale on the out. But I can't seem to get out of it, and now again. I received 2 emails from Corey. I'm going to post them both up here.

Email 1: Clearification abt u sawing me playin basketball after athar. My father did call me to ask me go back early that day, ok..heres what happened, i walked zichee to the mainroad, then i walk down to metalring,then they saw me ,they persuaded to play for awhile, but things keep dragging on, den end up playing very long, things are not as what u think. i went home and quarrelled with my dad abt me going home late. just wana tell u this things. take care.

Email 2: Hey, i found out what happen from zichee, I just dun think u made a good decision this time, i dun see any reason why u should so call leave them. if any1 should leave, i should be the one, im giving u all all the problems. not u. and ernie all of them have put in so much effort during this period, dun u think its kinda unfair for them? seriously, dun avoid them, things between them can still be the same, u just hafta avoid me, i wont be with them anymore for ur sake. just give urself and them 1 chance. ok? just take it as i beg u. please. u dun hafta reply me if u feel like.

So where do I stand now? Tell me my silent blog.