info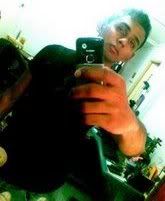 a twenty year-old soldier, deeping an escape fantasy into the wilderness of lifestyle, fashion, music, politics and the suffocation of everyday living. allow me to take my emotions and paint the world white.



facebook - friendster - myspace




LINKS
aaron.
erns.
jun.
rach.
zen.
zi chee
broth.
going om.


Andrea Crews
BryanBoy
Borderline
C.O.A.C.D
F.A.D
La Femme
Luis Avia Roma
Pink! is the New Blog
The Face Hunter
The Sartorialist
Ultra8201
Wardrobe Remix
WISHLIST
MACbook
new wallet
new phone
oni tigs



TRACK

Rihanna - Disturbia



TRAVEL
Bali
Cambodia
Koh Phi Phi


EATARY
BROTH just sliding off those sleezy bar by the junction. located above Duxton Hill, comes a very relax and romantic get away-like semi-fine dining heaven. Where modern Australian is a choice and service is at it's excellence.

Lunch : Mondays to Fridays Dinner: Mondays to Saturdays
6 July 2005 @ 1:04 pm
like I never knew you
Lunarin is playing this July. On the 16th and 17th at Esplanade. From 5:30pm onwards.

It's been 2 days since I step into school. And I kinda miss it for some reason, which I personally think it's kinda weird. Most of the time spent in lessons were all stonning away in blogs and creating them. Anyway, I owe both Saleh and Zi Chee new blog skins and I'm really working on it. I mean, visualising them in my head. The only problem is me, cause I'm not going to school. And I can't do their blog. Most of my items are safed in there. I'm sorry for the delay guys, I'll work it up for you very soon. To my exact calculations, I think my pay would be banked in tomorrow. Now it's time to get rowdy with it. So many things to buy, so little time and money of course. Can't wait to catch few movies in-line. I suppose I'll be meeting up with fad later at Athar to slack and eat. I'm starving already.

Anyway, this coming Friday it's going to be fiest. I kinda wanna name this outing A FIST FOR FIEST. Me, Faiz, Fad, Ain, Zi Chee, Ernie and Rach will be at Athar from 8:30pm onwards for some meals, shit-chat and fun. Those who are not invited, don't take it too personal. It's either you're not one of us or I just don't wanna get disappointed inviting you and your reply is, NO. I can't wait for this. It's like us celebrating Food Festival. I really hope everyone on the list turns up and don't turn me down. Might be going drinking with Rach after that. That gotta depand on if i got the mood or not.