info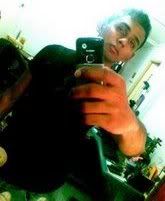 a twenty year-old soldier, deeping an escape fantasy into the wilderness of lifestyle, fashion, music, politics and the suffocation of everyday living. allow me to take my emotions and paint the world white.



facebook - friendster - myspace




LINKS
aaron.
erns.
jun.
rach.
zen.
zi chee
broth.
going om.


Andrea Crews
BryanBoy
Borderline
C.O.A.C.D
F.A.D
La Femme
Luis Avia Roma
Pink! is the New Blog
The Face Hunter
The Sartorialist
Ultra8201
Wardrobe Remix
WISHLIST
MACbook
new wallet
new phone
oni tigs



TRACK

Rihanna - Disturbia



TRAVEL
Bali
Cambodia
Koh Phi Phi


EATARY
BROTH just sliding off those sleezy bar by the junction. located above Duxton Hill, comes a very relax and romantic get away-like semi-fine dining heaven. Where modern Australian is a choice and service is at it's excellence.

Lunch : Mondays to Fridays Dinner: Mondays to Saturdays
20 July 2005 @ 4:15 pm
The Quiz of the Titan
Which religion is the right one for you?

You scored as Satanism.

Your beliefs most closely resemble those of Satanism! Before you scream, do a bit of research on it. To be a Satanist, you don't actually have to believe in Satan. Satanism generally focuses upon the spiritual advancement of the self, rather than upon submission to a deity or a set of moral codes. Do some research if you immediately think of the satanic cult stereotype. Your beliefs may also resemble those of earth-based religions such as paganism.

What Group Are You? Chav, Rocker, Skater, Emo, Goth, Trendy, Prepy E.c.t?

You scored as Goth.

What is your sexual style?

You scored as Violent.

You are violent. To you there is nothing better than a good spank. You like scratching and biting 'cause that's what people are for.

Which religion are you?

Atheist: Your religion is... No Religion. How liberating and guiltless. No worries, morals are retarded and you just need ethics. Think of ALL the time you save by not going to church. Besides, you can do whatever that you want without worrying that you're going to hell. This is awesome.