info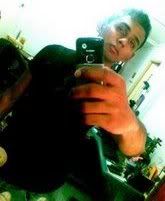 a twenty year-old soldier, deeping an escape fantasy into the wilderness of lifestyle, fashion, music, politics and the suffocation of everyday living. allow me to take my emotions and paint the world white.



facebook - friendster - myspace




LINKS
aaron.
erns.
jun.
rach.
zen.
zi chee
broth.
going om.


Andrea Crews
BryanBoy
Borderline
C.O.A.C.D
F.A.D
La Femme
Luis Avia Roma
Pink! is the New Blog
The Face Hunter
The Sartorialist
Ultra8201
Wardrobe Remix
WISHLIST
MACbook
new wallet
new phone
oni tigs



TRACK

Rihanna - Disturbia



TRAVEL
Bali
Cambodia
Koh Phi Phi


EATARY
BROTH just sliding off those sleezy bar by the junction. located above Duxton Hill, comes a very relax and romantic get away-like semi-fine dining heaven. Where modern Australian is a choice and service is at it's excellence.

Lunch : Mondays to Fridays Dinner: Mondays to Saturdays
29 August 2005 @ 9:51 am
18th year of misanthropy
Today is my 18th birthday and everything seem so normal to me than it use to be. Every other year, it use to be so entertaining and enpowering. This year, it just seem to be so dead to belief that it's the day. Nothing really special to be frank. Just that yesterday, like every other yesterdays on my birthday. We had great meals at a nearby coffeeshop. My first present was from baby who bough me a teva slipper. Mary made me a coffee scroll. Grandparenst gave me $100 which goes for my phone later on and Aunt got me a new bottle of perfume. Sis bough me ice-cream? Thats birthday I think. I really want so much more presents. But wishes keeps coming in. First was my bitch, Ernie. And later from Zi Chee & Saleh & Baby & Rebecca. Granny, Mom and soon-to-be dad was today together with Samantha, Vignesh and schoolmates. I think Fad wished me already; but it was 7hours before my birthday. I'm still waiting for the other bitch to wish me. but I think it won't happen.

eighteen aeons in misanthropy
It's been long 18 years and till today, it never seem to stop dissapearing from it's presence. Still to date, everything around that surrounds dissapears away sooner or later. We don't have the "Everyone leaves" theory for nothing you know? I'm going to far in this, and come to think of it. I'm more like a martyr towards this whole shit. It's difficult to let go, but sometimes you just don't want to pay any attention over getting it back. It's very hard for me to look at it like nothing happened and pretend my whole fucking life away just like this.

This whole fucking year was a let-go and it just seem nothing more positive than it seem to be. The first let-off was went this whole fucking breakfriendhip thingy came along and letting go of the chinese gang came around the corner. And I also had to let go of my beloveth 3 maskerters. Even though things seem to be working out, I know that nothing is ever the same again. Nothing was it's way like it use to be and after getting to know what you've been this far; it's difficult for everything to be forgotten. The way you stand your speech comsumes my faith in you and I know to my heart that I can't change the fact that I felt to be your bastard after every end.

My whole world cried when what I thought was my everything betrayed me. I was dead dissapointed over it and each time I think of it. It makes me feel so cheap and every of our words and deeds shared with tears were of no use. It was just then end of everything and nothing is gonna get in my way to fix you back.

Another dismissed came along; and I really felt this was the most necessary of them all. This shit was clinging onto me for so long that finally I really had to let go. All the critics were a disbelieve until it really had to happen for me to believe. I know I've been saying this, but I really really will never ever look back at that bastard again even if he was to face the death parade.

And now I almost feel like losing two of my bestest bitches. Even though I know that; a half of me will be erased by this. I really feel pain come to think of it but this I'm pretending away like it's of nothing. I just wish it could be better. I just wish it could be fairer.