info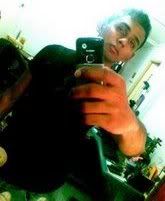 a twenty year-old soldier, deeping an escape fantasy into the wilderness of lifestyle, fashion, music, politics and the suffocation of everyday living. allow me to take my emotions and paint the world white.



facebook - friendster - myspace




LINKS
aaron.
erns.
jun.
rach.
zen.
zi chee
broth.
going om.


Andrea Crews
BryanBoy
Borderline
C.O.A.C.D
F.A.D
La Femme
Luis Avia Roma
Pink! is the New Blog
The Face Hunter
The Sartorialist
Ultra8201
Wardrobe Remix
WISHLIST
MACbook
new wallet
new phone
oni tigs



TRACK

Rihanna - Disturbia



TRAVEL
Bali
Cambodia
Koh Phi Phi


EATARY
BROTH just sliding off those sleezy bar by the junction. located above Duxton Hill, comes a very relax and romantic get away-like semi-fine dining heaven. Where modern Australian is a choice and service is at it's excellence.

Lunch : Mondays to Fridays Dinner: Mondays to Saturdays
1 August 2005 @ 4:09 pm
never going that far
Been busy getting shacked up. With dark circles like eye shadows and pale fish-slapped faces though out the day. Even the weekends wasn't enough for me to catch up with my sleep. The time spend sleeping was much faster than than the time spent bright open. Typing now makes me no much difference from a zombie and I sincerely apologise for the mis-spells or whatever that comes about. Meet baby as usual for this weekend and we were just simple broke. Walked around Lot 1, didn't help so we were in library slacking. Was quite odd for me, but I manage to get inspired by certain articles (last paragraph). Well, once I get my pay I should be getting my things bough and settle. I'm holding my Slipknot ticket right now and It's no joke about it. Gonna buy Sony Ericsson T630 cause I love that phone alot. Going for alot shopping and planning on buying for baby a perfume. It's gonna be a suprise anyway. And not forgetting Sentosa on sunday.

It's quite a rising trend on transgenders, homosexuals, bi-sexual in every part of the country and It's also hard to acknowledge the rising criticism against them. Either they were from rosery holders, faith believers, thugs or school kids. Everyone I know -or should I say most- believe that transgenders or homosexuals are freaks of nature or evil and are spawned by the devil and must be suppressed. Or simple, they're just made scapegoats to laughter. Hack to say, I sometimes do "EEEE" at anyone I see but just because they're ugly and not cause they're what they are. So you get alot of people eyeing on this group of people and they somewart label them to be freaks or sick in the head or whatever that they can come up with. I believe that each human should practice individualism and totalitarianism in embracing respect to such individual for either their transformation or sexual preferences. Keep the disgrace aside, and respect such people as what they are. They should get the credit for being what they are and not hiding under their ownself. They are brave enough to stand up and be themself. Which is one of the main thing I admire them for. People should start accomadating them in their life, cause they're still just simple human beings. I'm enlightening this because I was inspired by this article on a transgender being brutally murdered just because she is a transgender. And sad to say it happened, sad to say the criminals even had defendent lawyer.