info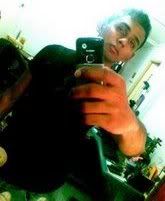 a twenty year-old soldier, deeping an escape fantasy into the wilderness of lifestyle, fashion, music, politics and the suffocation of everyday living. allow me to take my emotions and paint the world white.



facebook - friendster - myspace




LINKS
aaron.
erns.
jun.
rach.
zen.
zi chee
broth.
going om.


Andrea Crews
BryanBoy
Borderline
C.O.A.C.D
F.A.D
La Femme
Luis Avia Roma
Pink! is the New Blog
The Face Hunter
The Sartorialist
Ultra8201
Wardrobe Remix
WISHLIST
MACbook
new wallet
new phone
oni tigs



TRACK

Rihanna - Disturbia



TRAVEL
Bali
Cambodia
Koh Phi Phi


EATARY
BROTH just sliding off those sleezy bar by the junction. located above Duxton Hill, comes a very relax and romantic get away-like semi-fine dining heaven. Where modern Australian is a choice and service is at it's excellence.

Lunch : Mondays to Fridays Dinner: Mondays to Saturdays
17 August 2005 @ 3:21 pm
one upon a time, I FUCKING SAW SLIPKNOT.
Dress to our eternal best, slash our faces with make-ups and brush our nails with paints. Putting on our unholy invisible masks,An exploitation in gear for one of world's most famous metal band. Slipknot is here and it's no evanescenical truth. We were in a state, like ridden-anguish. Every part, the out and the in, all crumpled. Inconjuction with everything else, we're challenging ourself with time. To get there as fast as possible, so we don't miss our slot. We caught up with Hasanal and the whole big group. We were challenging ourselves what to expect and what not to. What that we should do and what was the opening going to be.

The whistle was blown and everyone rushed to the main gate to slit off our tickets to enter. To enter hell cum Fort Canning. This isn't your everyday Fort Canning channel, dressed in wedding gowns and coat to tie for photo shoots. These are 9 jaggulnauts manupilating their thoughts in one of the most controversial manner to date. Misfits were gashing in like beers into the background of the concert. Chanting over and over again for the band. We were already half past dead before the concert even started. I was thinking in silence if I'm going to last, until the whole shit ended. The radio was going on, that spolis the whole fucking mood with Emo. (E)Ian and the whole gang was criticising the song. Fucking emo in a new metal gig? It's ridiculous. Working hoaxed had all of us believing that the band was going to be on stage. Lights flashing, smokes smoking and debut tracks reeling were one of those. They were seedless but we know what we're in for.

And suddenly everything smoked with vengance. Wild crowd gearing with adrenaline. Bashing themself with chants for Slipknot accompanying pointing fingers, casted horns and waving. The band is on stage, the first one was Sid. He was fucking cute, playing and fooling around on stage. Making the crowd enpowering and defying their body limitations. Joey the shorty emerged behind his kit and so did James, Carig, Shawn, Chris, Mick and Paul. Slowly by slowly they started slotting in, in random. But Corey was last. Their first song was fucking theatrical and everything got heavy. I could only remember them playing (sic), Vermillion, Surfacing, Duality, Wait and Bleed, Before I Forget, Purity, People=Shit and The Heretic Anthem. The rest I'm not so sure with what they are. I was busy battling myself to the front row of the $102 section and keeping myself alive. That was even tougher. At the second song, I was already diluting in sweat and thirst. I tried to pull through everything and get myself together to witness what I know I want to.

What that touched me the most in this whole concert was Corey promising us another visit. We defying limitation to be one of the best place that they've played. Mezmerised by the energy injected into the show. One withing another, watching to see if we're ok. There were 2 things that I still smile about. One was that I shouted for Joey when there was silence and he turned and looked at me. I was fucking tocuhed by that. I did that for shawn too. Images of the band playing live does still flash on my mind. It's still distingly unbelievable that I meet the band that began my journey to a split change in life. I still can't believe I'm still alive after it. Apart from the sorethroats, blistering hurt behind my neck, arm, legs and body. The half torn apart me that is still not leaving behind this experience.