info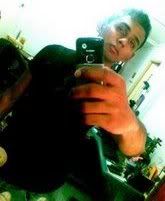 a twenty year-old soldier, deeping an escape fantasy into the wilderness of lifestyle, fashion, music, politics and the suffocation of everyday living. allow me to take my emotions and paint the world white.



facebook - friendster - myspace




LINKS
aaron.
erns.
jun.
rach.
zen.
zi chee
broth.
going om.


Andrea Crews
BryanBoy
Borderline
C.O.A.C.D
F.A.D
La Femme
Luis Avia Roma
Pink! is the New Blog
The Face Hunter
The Sartorialist
Ultra8201
Wardrobe Remix
WISHLIST
MACbook
new wallet
new phone
oni tigs



TRACK

Rihanna - Disturbia



TRAVEL
Bali
Cambodia
Koh Phi Phi


EATARY
BROTH just sliding off those sleezy bar by the junction. located above Duxton Hill, comes a very relax and romantic get away-like semi-fine dining heaven. Where modern Australian is a choice and service is at it's excellence.

Lunch : Mondays to Fridays Dinner: Mondays to Saturdays
12 October 2005 @ 3:22 pm
and all those priomises, and all those left behind
Now the blood is beginning to stop pumping. My consiounce is polluted. My presence is fakerning. My heart is depleating. My fingers are slipping away. And I'm beginning to weary according to the blow of the wind. Theres noise inside my head contemplating with each other. I'm plucking my hair one by one. Sulken face and sulphur race. Why does it got to end up like this. Now my greed is formatting to guiltiness. I've ever felt the essence of betrayal but never did I commit an atrocity of such. I've felt it all from all those I've loved to all those I'm beginning to hate. But I've never done it till this date. Can't explain how the guilt is eating me up bit by bit. And noises in my head contemplating. Driving me to tainted illusions. Tendencies of slitting myself. I never even though it would affect me this much. How wish I never had even done it; better still, not even taught of it. I know I wouldn't say it high, I hope i'm forgiven within.

Meet Mary yesterday for her piercing. Now she looks like a cow. Got pictures of her. Was slackign with tabby and her at McCafe. I also bought a book. An astonishment but true. Beginning to read it anyway. It's an encyclopedia of Witchcraft and Magic. Can't wait to expend my knowledge of Paganism, Occultry, Caballa and Masonism further. It brings me the thrill to learn something way past your bed time curricullium. It's chilling too. The presence of seteretypes and narrominders would just make it tougher, or maybe challenging.