info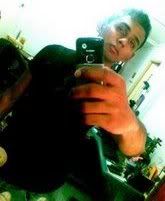 a twenty year-old soldier, deeping an escape fantasy into the wilderness of lifestyle, fashion, music, politics and the suffocation of everyday living. allow me to take my emotions and paint the world white.



facebook - friendster - myspace




LINKS
aaron.
erns.
jun.
rach.
zen.
zi chee
broth.
going om.


Andrea Crews
BryanBoy
Borderline
C.O.A.C.D
F.A.D
La Femme
Luis Avia Roma
Pink! is the New Blog
The Face Hunter
The Sartorialist
Ultra8201
Wardrobe Remix
WISHLIST
MACbook
new wallet
new phone
oni tigs



TRACK

Rihanna - Disturbia



TRAVEL
Bali
Cambodia
Koh Phi Phi


EATARY
BROTH just sliding off those sleezy bar by the junction. located above Duxton Hill, comes a very relax and romantic get away-like semi-fine dining heaven. Where modern Australian is a choice and service is at it's excellence.

Lunch : Mondays to Fridays Dinner: Mondays to Saturdays
17 October 2005 @ 3:03 pm
marshland, here it is.
Meet baby on friday. We planned to glutton up something special, but Zeenath was useless. Instead, we had Murtabak and Kwey Tiow goreng at Athar which was good. The Murtabak is so perfect, I can't remember having something better than that. After that, we went over to baby's house. Rented few VCDs to catch time with and ended our night with 40 years old virgin. I sneaked out the next night and we both went over town. It was boring but we had Swensens'. Baby really had something against the gay waitrer. Discreetly mocking him with her question. I felt pinch of embarresment but manage to shut her up. We also saw a really fat and ugly draq and a chinese gay couple daringly holding hands to Far East. They certainly got to get alot of stare, but they've got guts. Slept over at baby's house and had the most biggest dinner in ages. We were eating way more than even the obese lady next to us had. We had chicken cultlet with mushroom soup, halal hokkien mee, Indonesian BBQ set-meal and 2 cocktails. And I still can't get enough of it. We spent amounting to $20 in total.

Work this week is gonna hurt abit. Nana, Bahrin, Winsur all gone and none to work with. All there is left is Me, Naz and Shidah. How worst can it get? No more Kambeng talks and bitching with my new bitching partner. No more resulting to stupid solutions with Bahrin. No more hand-resting on shidah together with Winsur. All just gone over to Specialist Centre. Maybe more attachments can cheer me up. Really do hope there is the supper before they leave.