info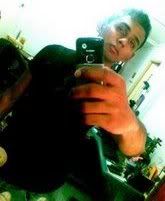 a twenty year-old soldier, deeping an escape fantasy into the wilderness of lifestyle, fashion, music, politics and the suffocation of everyday living. allow me to take my emotions and paint the world white.



facebook - friendster - myspace




LINKS
aaron.
erns.
jun.
rach.
zen.
zi chee
broth.
going om.


Andrea Crews
BryanBoy
Borderline
C.O.A.C.D
F.A.D
La Femme
Luis Avia Roma
Pink! is the New Blog
The Face Hunter
The Sartorialist
Ultra8201
Wardrobe Remix
WISHLIST
MACbook
new wallet
new phone
oni tigs



TRACK

Rihanna - Disturbia



TRAVEL
Bali
Cambodia
Koh Phi Phi


EATARY
BROTH just sliding off those sleezy bar by the junction. located above Duxton Hill, comes a very relax and romantic get away-like semi-fine dining heaven. Where modern Australian is a choice and service is at it's excellence.

Lunch : Mondays to Fridays Dinner: Mondays to Saturdays
21 November 2005 @ 6:24 pm
interpretation of a broken court.
interpretations of a broken court


in dark penitent nights of your dark mis-deeds and mis-fortunes. great regreat for your suffering and limping. but stone you shall be to death. great depression shall you fall as you walk into the ray of light. harsh words and deeds shall befall your every inch of encompassing. try catching yourself if you can. try making and mending it back whats broken. find yourself diminishing gradually then glued tight. you'll never make a step up for all that you've contributed. look at you now. you're nothing.

baby and I caught Harry Potter, and it was good. we found a wallet too, which was kindly returned to the owner. nothing much to blab about. just that, i'm gradually falling into so much of goodness. and I'm so much more happier for myself than ever. sang to Mary the other day with my new vocals and she thinks it's super different paired with greatness at the same time. proud to have worked this hard to get it. work is going on and on and my pay is rising as I trace back.

furiousity still boils down my throat as I think of it. baby suggestion is to not bother about it. but how can I not? it's as if I don't even exist. like you can't drop by at all. all the fake excueses don't buy. fuck goes for everything like I care. since you're leaving, just leave. and for everyone else; I doubt I need anyone there use to be. i'm feeling so much better than i used too. things have and will change. and I'm proud the revelation is part of me. i don't need your blame for spliting a birthday gathering, i don't need your no communications, and don't have to hear your comments about anything more. all i need now is away, and away from everything else.