info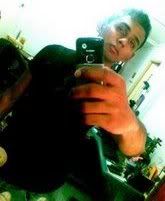 a twenty year-old soldier, deeping an escape fantasy into the wilderness of lifestyle, fashion, music, politics and the suffocation of everyday living. allow me to take my emotions and paint the world white.



facebook - friendster - myspace




LINKS
aaron.
erns.
jun.
rach.
zen.
zi chee
broth.
going om.


Andrea Crews
BryanBoy
Borderline
C.O.A.C.D
F.A.D
La Femme
Luis Avia Roma
Pink! is the New Blog
The Face Hunter
The Sartorialist
Ultra8201
Wardrobe Remix
WISHLIST
MACbook
new wallet
new phone
oni tigs



TRACK

Rihanna - Disturbia



TRAVEL
Bali
Cambodia
Koh Phi Phi


EATARY
BROTH just sliding off those sleezy bar by the junction. located above Duxton Hill, comes a very relax and romantic get away-like semi-fine dining heaven. Where modern Australian is a choice and service is at it's excellence.

Lunch : Mondays to Fridays Dinner: Mondays to Saturdays
18 November 2005 @ 3:46 pm
scattered and torn by filth
Torn by the mischief of your words. And the guilt of your company. They are all gateways to your fake worships of companionship. Despise your company and everything
about you. From now on and never, I'll look back at you. Still hate what those we've shared and the darkening memories of your undeniably soon-to-be fake gestures. I'm so much better off without you and your worthless besideness. I'm so much stronger. Let those be in mardieval times.

I'm infected with some rash due to my sensitive skin. Don't ask if I'm ok because, I'm never better. Introduced Vignesh to my store; and I guess she'll be my junior again. Work is doing fine, and my months pay is gonna be good too. Planning on buying another new phone once I get pay. But maybe other deals would just pop by. Going for a gig, thanks to Deepan's introduction. Lunarin is coming up too, can't wait to support them through. Work is excellent, working with Boss is like working in my past. Going back in time and talking dirty all the way. Shidah got the accompany and we're contaminating Dewi. Boss is just fun to work with. Plans for store outing and this really odd competition. To squeeze as many people into a 9seater and win $10 000 cash and handphones. I'm looking forward to it too.