info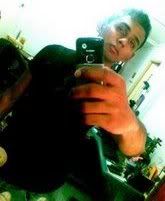 a twenty year-old soldier, deeping an escape fantasy into the wilderness of lifestyle, fashion, music, politics and the suffocation of everyday living. allow me to take my emotions and paint the world white.



facebook - friendster - myspace




LINKS
aaron.
erns.
jun.
rach.
zen.
zi chee
broth.
going om.


Andrea Crews
BryanBoy
Borderline
C.O.A.C.D
F.A.D
La Femme
Luis Avia Roma
Pink! is the New Blog
The Face Hunter
The Sartorialist
Ultra8201
Wardrobe Remix
WISHLIST
MACbook
new wallet
new phone
oni tigs



TRACK

Rihanna - Disturbia



TRAVEL
Bali
Cambodia
Koh Phi Phi


EATARY
BROTH just sliding off those sleezy bar by the junction. located above Duxton Hill, comes a very relax and romantic get away-like semi-fine dining heaven. Where modern Australian is a choice and service is at it's excellence.

Lunch : Mondays to Fridays Dinner: Mondays to Saturdays
12 December 2005 @ 7:57 pm
women are the nigger of the world
Just blooming around alot. Spending on movies, food, misc., etc. Doing wonderful; not to mention. Money can sure make me happy. And of course some regconision for my hard work. Which I got in a combo. Supposed to be at East Coast on aturday; but it didn't turn up that good. Words can't describe how we(me and fad) feel about everything.

But I sincerely can't accept anything and everything on how we're looked at. One thing is sure that we've left what we use to hold. But to look at it again, is this what we wanted? Definatly NO. I'm able to see the root to the problem. On how we started slipping away one after the other. I can blame it on my ego; I can double blame it on your carelessness and misfortunate event. The hook is tight, and the word is shed. The system no longer work and the hatred begins to boil. The reason to drop the last 2 was as simple as ABC. It's not a stupid reason. It's your stupid attitude. I can't accept being left alone for 1 and a half months just to have you message me you miss us. If you do, why not drop by a message? Why not say Hi? Where were all of anything we use to stand for? Is it reasonable if I do the same to you? How fair would it be to you? Though of it before? How if one day I came up to be missing because I'm busy with work, I message you a month or two later to say Hi? And my reason to you is that I'm busy with work. How is the connection between each other plentily holds. You think you've done no wrong. Think again. We're not fools like you think we are. I for sure know, we're gonna remain this way. I'm seeing more than double. I'm seeing a different destination and it's something I'm gonna regreat doing but will continue. I'm seeing a pleatue of desert sands. We've been this far, we'll be history. We'll be a bad history prefered not to be shared. I reckon words have flared. I believe to stay it without another gay fucker knowledge. It's definatly a celebration. It's a celebration of misfortunate events.

I'm quite influence to few movements and statements in life and one of it is race, religion and cast. I've actually found something I can merge with music. I think I've acquired my destination in deliverence.