info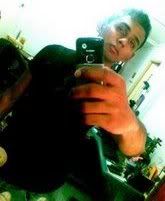 a twenty year-old soldier, deeping an escape fantasy into the wilderness of lifestyle, fashion, music, politics and the suffocation of everyday living. allow me to take my emotions and paint the world white.



facebook - friendster - myspace




LINKS
aaron.
erns.
jun.
rach.
zen.
zi chee
broth.
going om.


Andrea Crews
BryanBoy
Borderline
C.O.A.C.D
F.A.D
La Femme
Luis Avia Roma
Pink! is the New Blog
The Face Hunter
The Sartorialist
Ultra8201
Wardrobe Remix
WISHLIST
MACbook
new wallet
new phone
oni tigs



TRACK

Rihanna - Disturbia



TRAVEL
Bali
Cambodia
Koh Phi Phi


EATARY
BROTH just sliding off those sleezy bar by the junction. located above Duxton Hill, comes a very relax and romantic get away-like semi-fine dining heaven. Where modern Australian is a choice and service is at it's excellence.

Lunch : Mondays to Fridays Dinner: Mondays to Saturdays
23 January 2006 @ 6:30 pm
you blinded my empty shallow hole.
I shagged my way through the crowd. Caught your eyes from the side. You smile, your look and ur lifestyle struck a ring down my throat and down the gutter. You are whom I was wanting to see. I swallowed 'oh my god', and drag myself towards you. Noticed your cling and your move. It changed suddenly. You began to look un-easy as you sppread your look on me. Your eye speared mine. The visual content turned sour on yours. I began to feel weird as I'm still walking to you. But you divided yourself out of me. I saw your face full of hatered. I wonder deep within why. I began imaginging how it would be if i step to you and said hi. I had to make my decision fast. Just to imagine there is no connection. A meloncholic end, into a deeper kind of slumber. I never though I was a dreamer, but I know what you've just spoke silently. I just hope someday we'd join hands. And to beging to look like one. I felt so weak after what you did. I felt walking twisted and in awe. But I know deep down that I still love you with all my heart. I treasure your soul, your thought and accept your way of hunger to lifestyle. You use to be all I had, including my other babes. But how could this be after some days? How could you have not tried to give me just one single chance to speak to you. Now you make me tear my hollow thoughts. You make me drop in your empty hands you've brought.